Parks and Recreation Special Events
Bloomington shines brightest during these special events. Local arts, recreation and community organizations join with the City's Parks and Recreation staff to create fun for Bloomington's families, neighbors and friends. From winter to fall, the town is jumping with excitement. Please join in!
Winter Fete (January/February)
January 18 - 26, 2020
Join Bloomington Parks and Recreation and area sponsors in welcoming winter during the 16th annual Winter Fete Celebration. Most activities are free and all activities are fun for the whole family!
Visit the Winter Fete page for all the exciting details.
Spring Eggstravaganza Drive-Thru (April 3, 2021)
Saturday, April 3, 2021
10 a.m. - 12:30 p.m.
Marsh Lake Playfields West Parking Lot
West 94th Street & France Avenue South
Cost: FREE!
The Spring Eggstravaganza is this year's version of the annual Spring Egg hunt—minus the hunting! Participants will drive-thru the Marsh Lake Playfields West Parking Lot and make stops over an approximately 5-minute time period to enjoy a variety of giveaways and activities at booths presented by Bloomington Optimist Club, Angelica Cantanti Youth Choirs, Bloomington Athletic Association, American Legion Baseball, Northwestern Health Sciences University, Bloomington Police Department, and Bloomington Fire Department (including a fire truck!)
REGISTRATION IS REQUIRED FOR THIS EVENT in order to limit traffic congestion and ensure a safe and enjoyable experience for all participants. Visit blm.mn/webtrac to register for a 15-minute time block. Registration opens Tuesday, March 23 at 10 a.m.
One registration required per family. Covers all occupants of one vehicle.
You may arrive anytime during your 15 minute registration period.
If you have an account, visit the Webtrac link above BEFORE you attempt to register for Eggstravaganza to ensure that you know your login information.
If you do not have an account, visit the Webtrac link above and create one BEFORE you attempt to register for Eggstravaganza.
For a tutorial on the registration process, including how to set up a household if you do not already have one in the system, view the Online Registration Instructions.
For more details, including vehicle routing map, visit blm.mn/eggstravaganza2021
Event flyer
Step To It Challenge (May 1-28, 2021)
May 2021
What is the Step To It Challenge?
The Step To It Challenge is a FREE four-week physical activity challenge that motivates people of all ages and abilities to become more physically active. Family members, coworkers, schoolmates, neighbors, and friends come together to participate in this friendly competition among communities. Participants have opportunities to win prizes such as Twins tickets, T-shirts and more!
How do I get started?
If you work or live in Bloomington, join our team online.
Registration begins April 1 at www.steptoit.org
Log your steps and other activities daily at the Step To It Challenge website beginning May 1, 2021. Use the online conversion chart to track other activities such as biking, zumba, skateboarding, working around the house or even washing your car!
Get moving and stay active!
Check back for community rankings and status updates.
Paper registration forms are available upon request. Participants may also fax (612-348-7548) or call (612-348-5618) in their weekly steps.
Benefits of Step To It
All individuals who log their steps have a chance to win prizes through random drawings.
The individual with the highest step total will win a pair of Twins tickets and be recognized on the field during a game this summer.
The City with the most steps will win the "Most Steps Walked" Award.
The City with the most active walkers will win the "Highest Average Number of Steps per Resident" Award.
Public Works Open House (May)
Kites and Bites (June)
Arts in the Parks (June - August)
Various days June - August
Grab the kids and invite the neighbors to see the best music groups and entertainers in the Twin Cities. Arts in the Parks includes Monday Morning Kids Series, Evening Performances, Thursday Blockbusters and Friday Night Live. All programs are free of charge and open to the public.

Discover more about all the excitement on our Arts in the Parks web page.
Farmers Market (June - March)
Saturdays, June 12 - October 23, 2021 (outdoor markets)
Wednesdays, July 7 - August 18, 2021 (Midweek Music & Market)
The Bloomington Farmers Market is a weekly gathering in which farmers, growers and producers sell their own products directly to the public. At the market you will find a great variety of fresh locally grown produce as well as flowers, meat, cheese, honey, maple syrup, berries, fresh baked goods, jams, jellies, coffee, smoothies, art and more! The market also features music and special activities.

To learn more or become a vendor, check out our Farmers Market page
Safety Boot Camp (June)
Summer Fete (July)
**TBD 2021**
July 3, 2020
Normandale Lake Park
84th Street between Normandale Blvd and Chalet Road
Bloomington's Independence Day celebration is held each year on July 3 at Normandale Lake Park. The fun starts with a carnival, includes two entertainment stages, a great line up of performers, and as usual, a fantastic fireworks display just after dusk!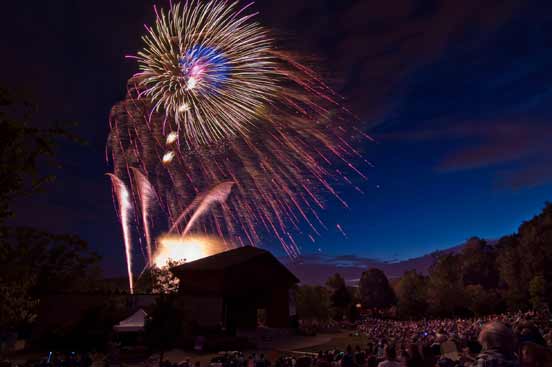 On the Summer Fete page you can find detailed information on performers, parking, schedule, weather and more!
River Rendezvous (September)
**TBD 2021**
September 21 - 25, 2020
This wonderful festival is a chance to experience living history at the Pond-Dakota Mission Park in Bloomington, Minnesota. Its goal is to demonstrate the lifestyles of people living in Minnesota between 1830 and 1870 through story-telling and interactive, hands-on demonstration!

The public event is held in the evening on the Thursday of the week. For more information check out the River Rendezvous page!
Halloween Event (October)
**2021 event information will be available in September.**
October 31, 2020
3:30 - 5:30 p.m.
Northwestern Health Sciences University
2501 West 84th Street (84th and Penn)


Join us for the first-ever Drive-Thru Boo! at the 2020 Citywide Halloween event. This event is for preschoolers through fourth graders. During this drive-through event, children will enjoy costumed characters, Halloween-themed booths, candy and other surprises, and much more!
Guests must remain in vehicles at all times.
ONE household per vehicle.
Costumes not required.
Free event. No registration required.
Donation of a non-perishable food items for the VEAP food shelf is not required but greatly appreciated.
See map below for traffic routing. Click image to enlarge.
Coloring Contest
The entry deadline for the annual coloring contest has passed. But you can still download and print the flyer below and to color just for fun.
2020 Drive-Thru Boo! Flyer and Coloring Contest (English)
2020 Drive-Thru Boo! Flyer and Coloring Contest (Español)
Contest Rules
Age groups: Preschool (3 - 4 years), Kindergarten, 1st, 2nd, 3rd, and 4th grades.
Complete the drawing on a printout of page 2 of the PDF linked above using markers, crayons or colored pencils.
Coloring contest entries are due by Monday, October 19, 2020 at 4:30 p.m.
1st, 2nd, and 3rd place prizes will be awarded for each age group.
View and Vote
Over 180 young artists submitted coloring sheets for the 2020 Coloring Contest. View and vote for your favorites at blm.mn/halloween-contest-2020. Voting closes on Tuesday, October 27 at 11:59 p.m.
The Citywide Halloween Drive-Thru Boo! is presented by the Recreation Division of the City of Bloomington Parks and Recreation Department and is co-sponsored by the Bloomington Optimist Club.