Creative Placemaking Links
Contact Information
Contact Information
Title
Creative Placemaking in Bloomington
Banner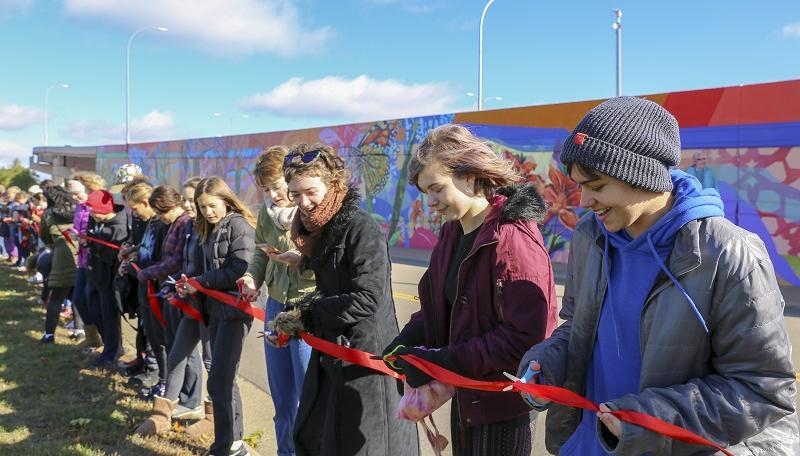 Sections
Creative Placemaking in the South Loop is an initiative of the City of Bloomington and Artistry. Creative placemaking is an evolving field that works to build vibrant, distinctive, and sustainable communities through the arts. It engages the community, artists, and other stakeholders in building social fabric and local economies while making physical, place-based improvements, leveraging the distinctive character and creative and cultural resources of each place. 
Our vision is that sustained creative placemaking efforts will establish the South Loop as a distinctive destination known for welcoming creative people and using the arts to transform the neighborhood physically, socially, and culturally.
Creative Placemaking in the South Loop goals include:
Urbanism: Ensure urban design excellence in transforming the built environment.
Animation: Animate public spaces and strengthen the social and cultural fabric.
Involvement: Involve and empower people who inhabit and care about the South Loop.
Identity: Elevate and project South Loop's identity.
Leadership: Build capacity to sustain leadership and champions.
Investment: Attract new development and foster the creative sector.
Explore South Loop public art:
Download the Otocast App to access the South Loop Public Art Audio Tour
South Loop creative placemaking projects
South Loop public art audio tour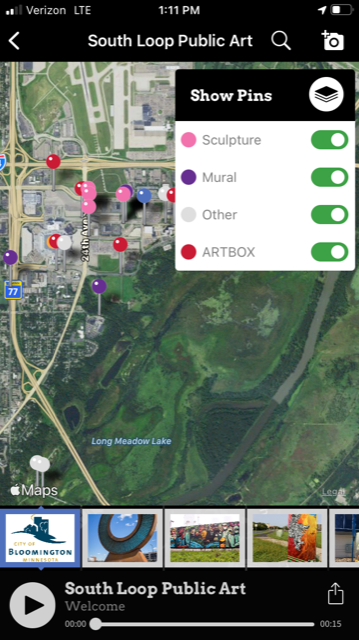 Download the free Otocast App on your smart phone to access the South Loop Public Art Audio Tour and take a self-guided tour to learn more about the art and artists.
Use the location-based app to find and interact with 35 public art points of interest in the South Loop. 
Detailed descriptions, photos, directions, and audio clips, including artist interviews, tell the stories behind the artwork you visit.
Visit 10 public art locations and receive a badge and a prize package, including a $30 gift card to a South Loop restaurant, reusable stainless steel metal straws from the Bloomington Convention & Visitors Bureau, and a South Loop backpack, hat, water bottle, and notepad/pen. (Limited prize packages are currently available.). 
Information in
​
Community Garden & Artful Landscaping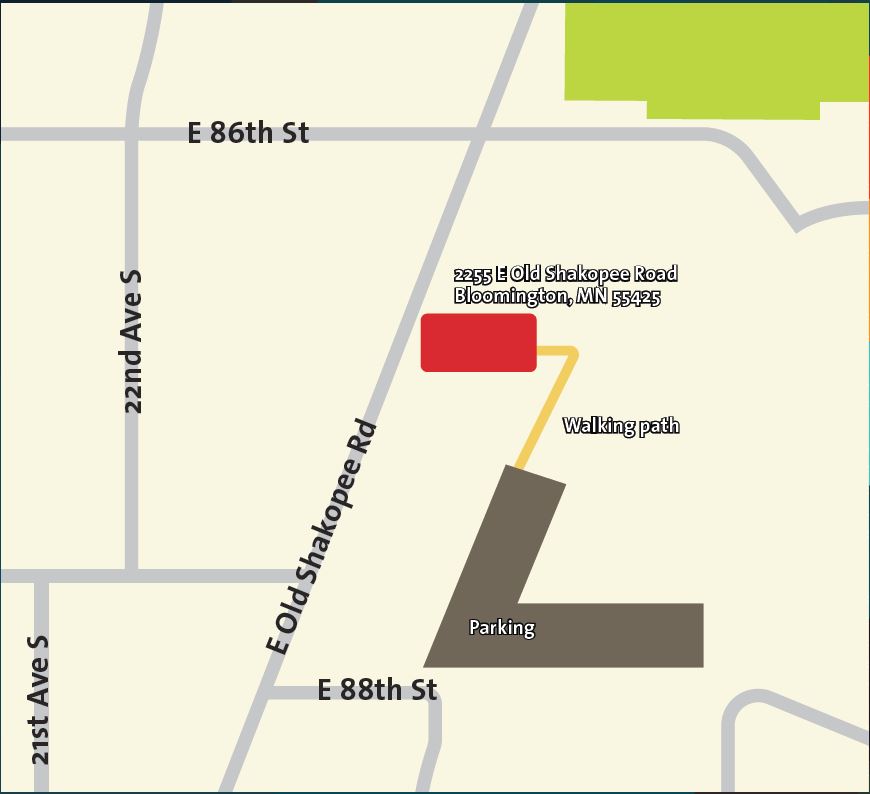 We are currently implementing a creative placemaking project on the property next to the new Fire Station #3, located at the south east corner of the intersection of East 86th Street and Old Shakopee Road. 
Previously, we hosted an on-site engagement event, participated in community meetings and met with stakeholders to gather feedback about how to develop this vacant lot. The most popular ideas included native landscaping, a community garden, and seating. After gathering feedback about draft designs, the site will be developed in 2022 and Spring of 2023, and will include these components. Learn more about Community Garden plots. 
South Loop WE mural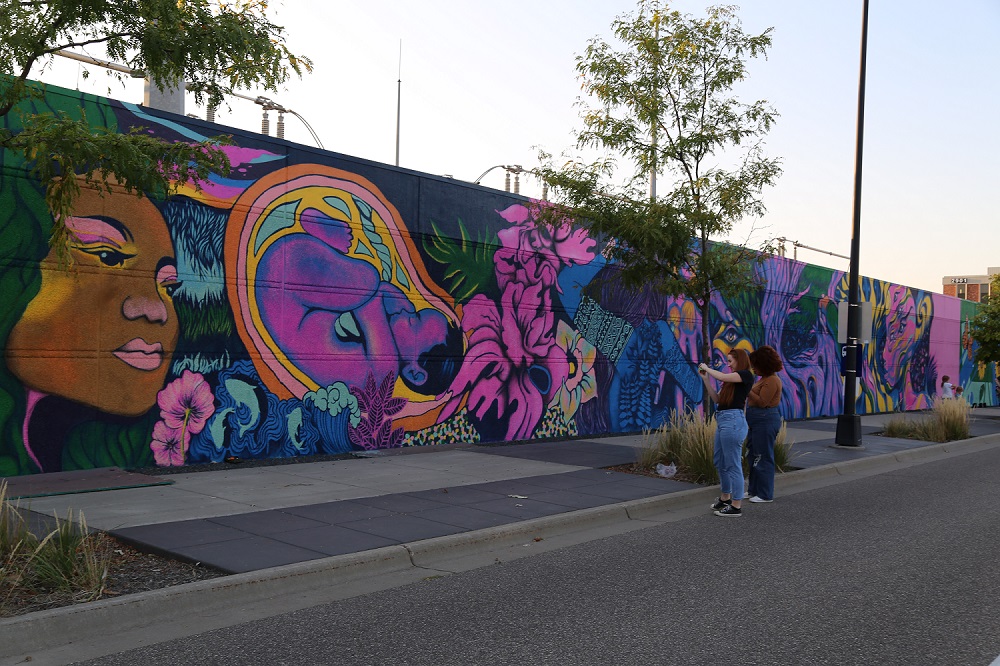 The WE Mural was curated and produced by Ua Si Creative. Artists: Andrés Guzmán and Xee Reiter, City Mischief featuring Thomasina Topbear and Tom Jay, Marlena Myles, Martzia Thometz, Reggie LeFlore, and Ua Si Creative.
Ua Si Creative coordinated the artistic team members who completed a series of murals located on two walls surrounding an Xcel Energy substation facing American Boulevard and 30th Avenue South. Installation took place throughout August and September, 2021, with a Sunset Block Party to celebrate the completion. Learn more about the WE Mural here.
View 'A first look at South Loop's WE Mural' and the 'WE Mural Sunset Block Party', by the City of Bloomington.
Thank you to the following partners for their support: Forecast Public Art, McGough, Metro Transit and Xcel Energy.
"The Goldfinch" sculpture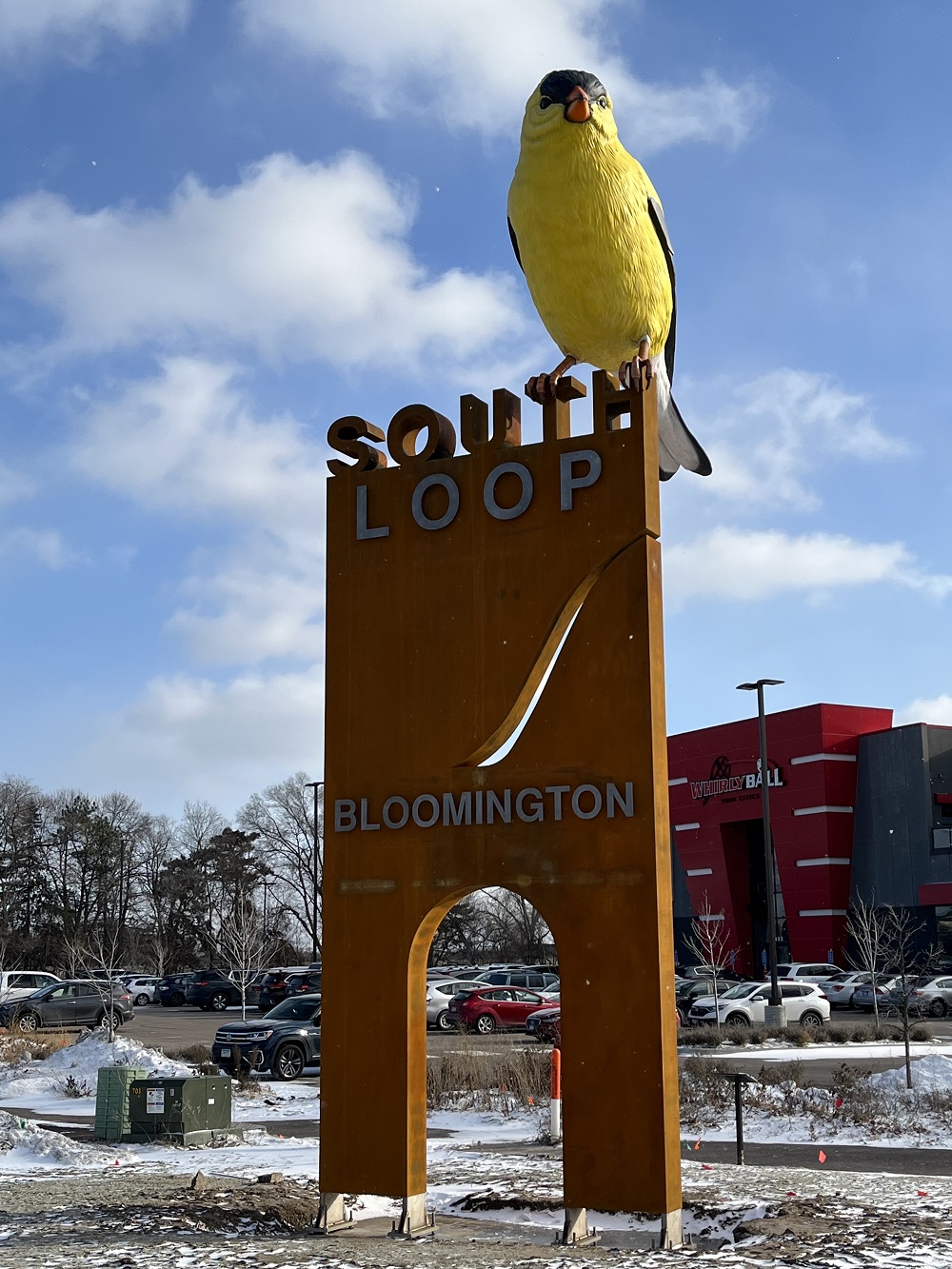 The Goldfinch, by artist Donald Lipski will help create a more distinctive sense of place and identity, while providing an opportunity to surprise and delight those who live, work, and visit South Loop. The design was inspired by the 250+ migratory birds that pass through the Minnesota Valley National Wildlife Refuge. The theme of flight and migration was also an element when considering the diverse population of South Loop and the nearby international airport. The sculpture is located at the south east corner of the intersection of Killebrew Drive and Old Shakopee Road, near Refuge trail heads, and next to a trail connection. The community was previously invited to vote on which local songbird should be represented, and American Goldfinch was the clear winner. This project was installed in December, 2021.
ARTBOX projects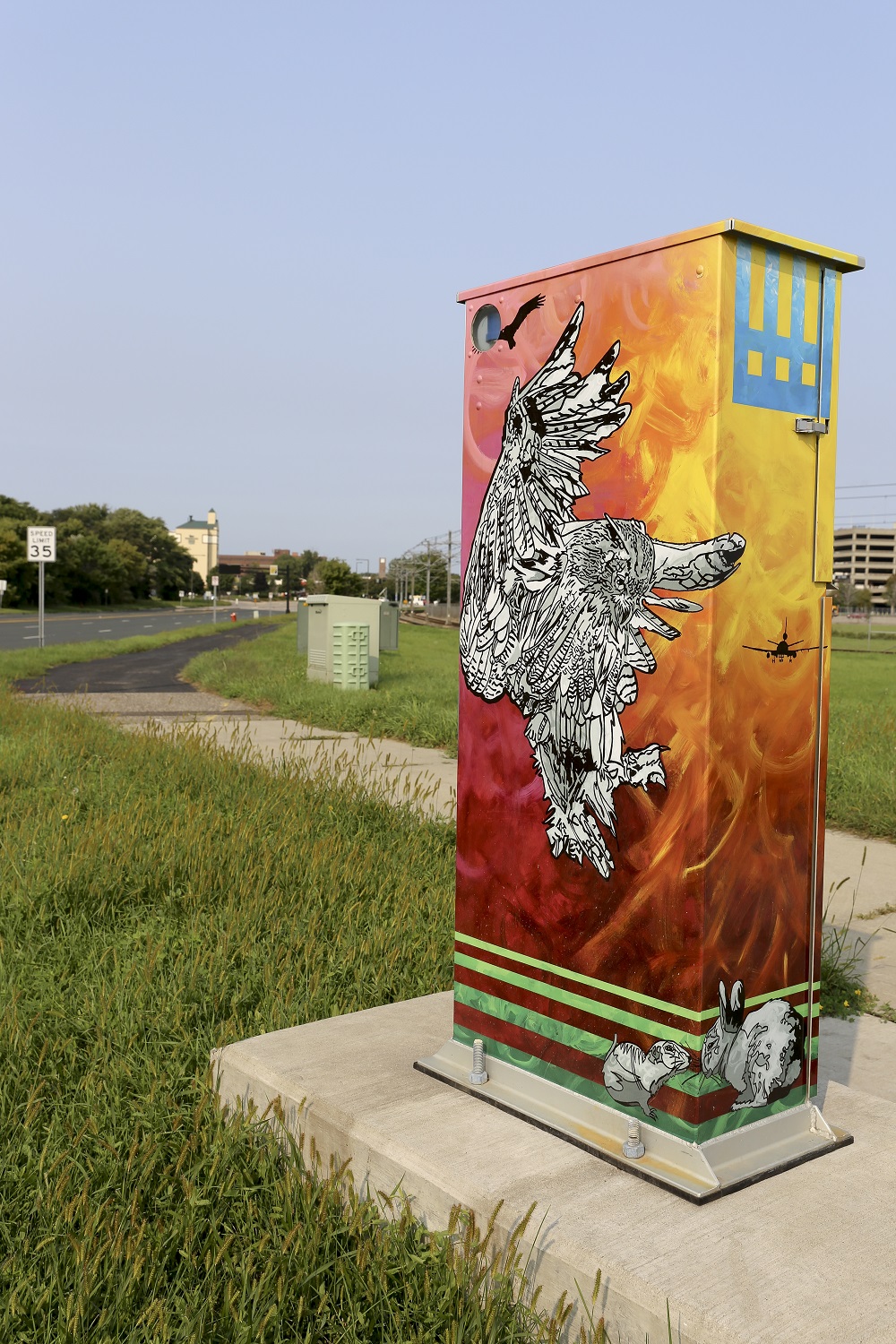 ARTBOXES consist of wrapped utility boxes in designs by local artists. Some also include sculptural elements. These creative, exciting, and appealing objects of art create a free outdoor gallery and enhance the district's character and vitality. 
As many other communities have discovered, transforming utility boxes into vehicles for artistic expression has produced several benefits: reducing graffiti, beautifying neighborhoods, improving walkability, and creating elements of surprise and delight.
Completed ARTBOX projects include:
2 boxes at Killebrew Dr & 22nd Ave by artist Teresa M. Cox
5 boxes at Lindau Ln & 30th Ave by artist Erik Sletten
1 box at E. Old Shakopee Rd & 28th Ave by artist Jesse Golfis
1 box at Thunderbird Rd & American Blvd by Mandel Cameron
1 box at Lindau Ln & 24th Ave by Olivia Novotny
1 box at American Blvd & 34th Ave by Jose Rebollo
2 box at Lindau Ln & 28th Ave, one by Robyn Brower, one by John C. Gerber
1 box at 82nd St & 28th Ave by Shakuntala Maheshwari
1 box at Appletree Sq & 34th Ave by Luis Fitch
1 box on 33rd Ave S, in front of Fenley Apartments, by Leah Yellowbird
Please download the free Otocast App to access our South Loop Audio Tour and view images and information for all Artboxes.
Creative Spark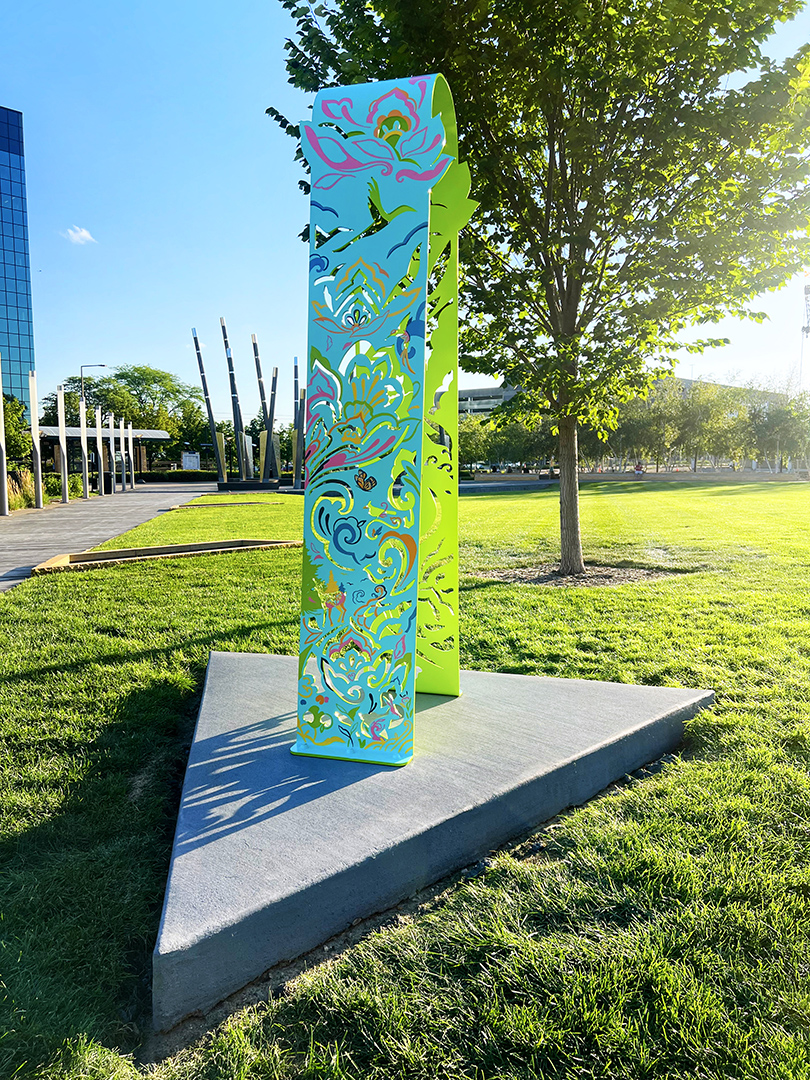 Bloomington Ribbon, by Kao Lee Thao. Photo credit: Kao Lee Thao
In the Creative Spark program, we invite artists and others to propose and implement creative ideas within the South Loop. Stakeholder panels have reviewed and selected projects that enhance and activate South Loop and engage residents, workers, and visitors in creative ways that could be temporary, experiential, semi-permanent, or permanent. 
2021 selected proposals were sculptures all installed in the Bloomington Central Station Park area:
"Kalopsia" bench, by Daniela Bianchini
"Blooming Ribbon," by Kao Lee Thao
"Street Seat," by Greg Mueller
2019 selected proposals:
"An Owl's Perspective," a temporary 3D sculpture in the shape of a great horned owl, to be installed at the Minnesota Valley National Wildlife Refuge. Visitors helped construct this sculpture during the Urban Birding Festival. Artist: Gail Katz-James.
Summer Music Concert featuring Hailey James and The Tuxedo Band, at Bloomington Central Station Park. Coordinated by Reflections Condominiums social committee.
Free standing temporary "pop up" murals, located at Bloomington Central Station Park. Artist: Rock Martinez.
Bloomington Cultural Festival, at the Minnesota Valley National Wildlife Refuge Visitor Center. Coordinated by Together Bloomington.
Please download the free Otocast App to access our South Loop Audio Tour and view project images and information.
Making it Public Workshop

The City of Bloomington has partnered with Forecast Public Art to provide Making it Public, a free, two-day intensive workshop designed for artists who are interested in exploring and expanding their public art making practice. This workshop was previously offered in 2018, with 33 participating artists, 42% from the Bloomington or the South/Southwest metro; and again in 2023 with 30 participating artists, 45% from the Bloomington or the South/Southwest metro.
Old Cedar Bridge augmented reality tour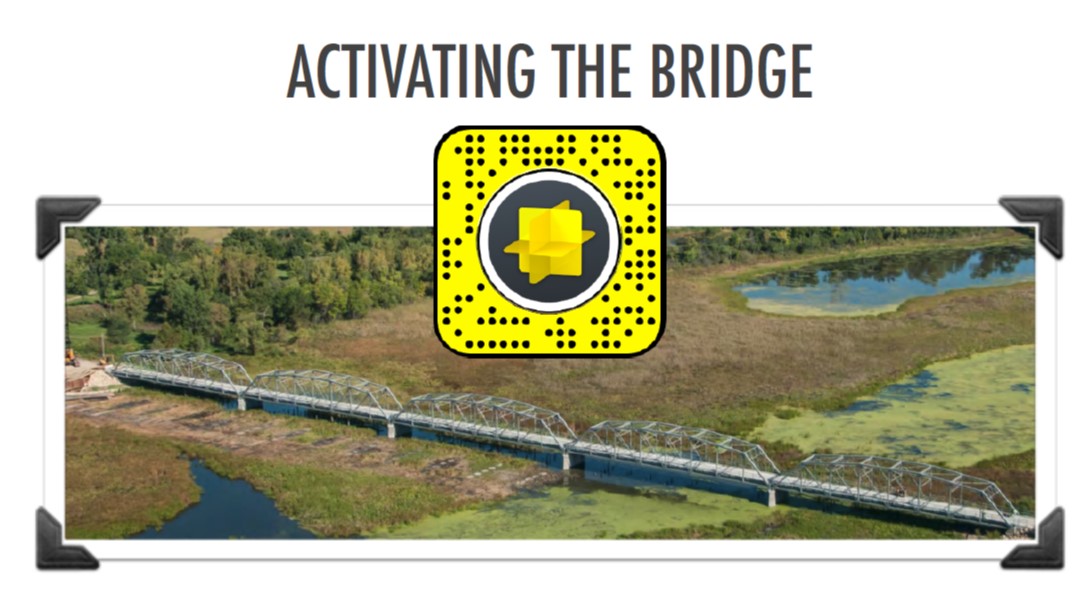 Bloomington and Artistry worked with artists Nancy Musinguzi and Adam Davis-McGee/AxS GRNTD on a virtual Augmented Reality (AR) Tour of the Old Cedar Avenue Bridge over Long Meadow Lake (9898 Old Cedar Ave S, Bloomington).
Within the Old Cedar Avenue Bridge, visitors will be able to unlock exclusive AR experiences available for immediate use in Snapchat. This AR Tour is an informative and entertaining experience inspired by the legacy and surroundings of the bridge. Some of the themes include historical information and dates, selfie wings highlighting local birds and butterflies, and flags representing the diversity of Bloomington. 
Inside the app, users focus the camera on the snapcode then press and hold. Once these snapcodes are scanned, users can engage with a delightfully informative and shareable AR experiences. By digitally transforming parts of the bridge's structure into "time portals" visitors will be able to explore and share innovative content.
The project was installed in November of 2019.
Creative happy hour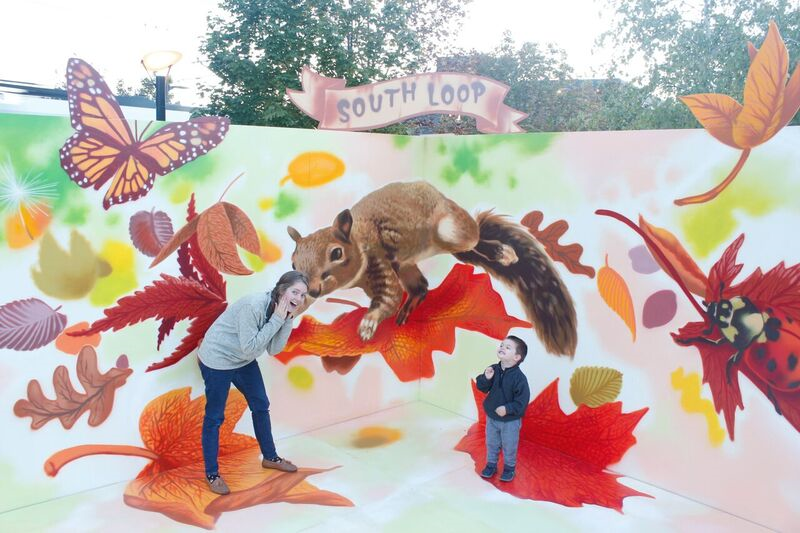 We have hosted three free creative happy hour events at Bloomington Central Station Park. Past events have included live music, food trucks, cash bar, creative interactive activities, a mini art workshop, outdoor games, and temporary pop up murals by Rock Martinez.
Wright's Lake Park community mural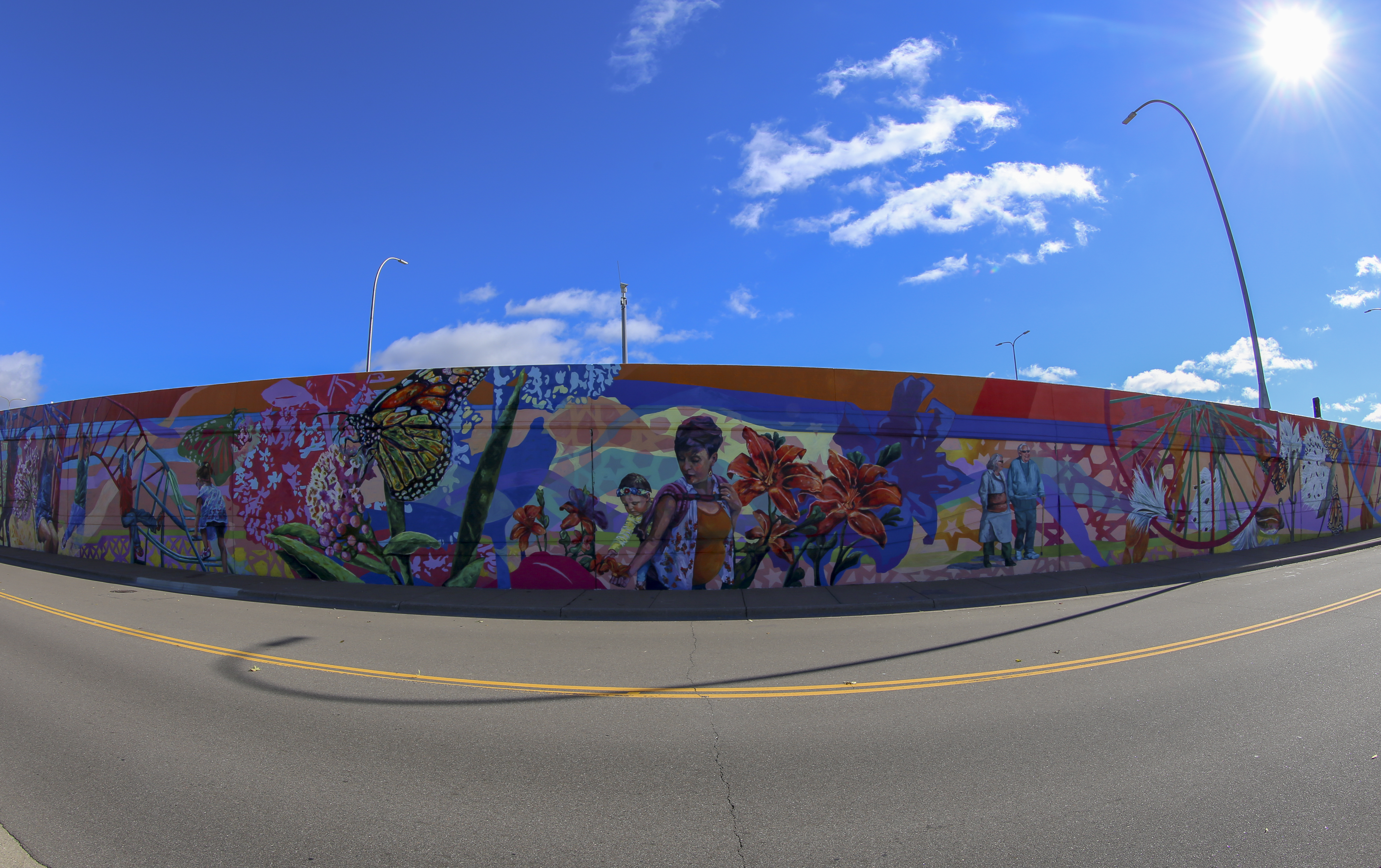 The City of Bloomington commissioned a mural on the retaining wall that runs alongside State Highway 77/Cedar Avenue and faces Old Cedar Avenue and Wright's Lake Park. This mural is part of the City's neighborhood emphasis program in this area, and the City and our partner Artistry's creative placemaking efforts. We worked with GoodSpace Murals to produce the Seasons of Becoming mural, due to their artistic expertise, extensive experience, community engagement process, and bilingual staff.
Three design visioning sessions in 2017 and 2018 inspired the design, a design presentation collected feedback, and seven painting parties took place in May and June 2019 throughout Bloomington, where the community helped paint on canvas sheets later adhered to the wall. Students from Valley View Middle School participated throughout the process, including a photo shoot where they served as models for the mural, and a ribbon cutting celebration in October 2018 to commemorate the completion of the mural.
View videos of the process and celebration.
Parking ramp project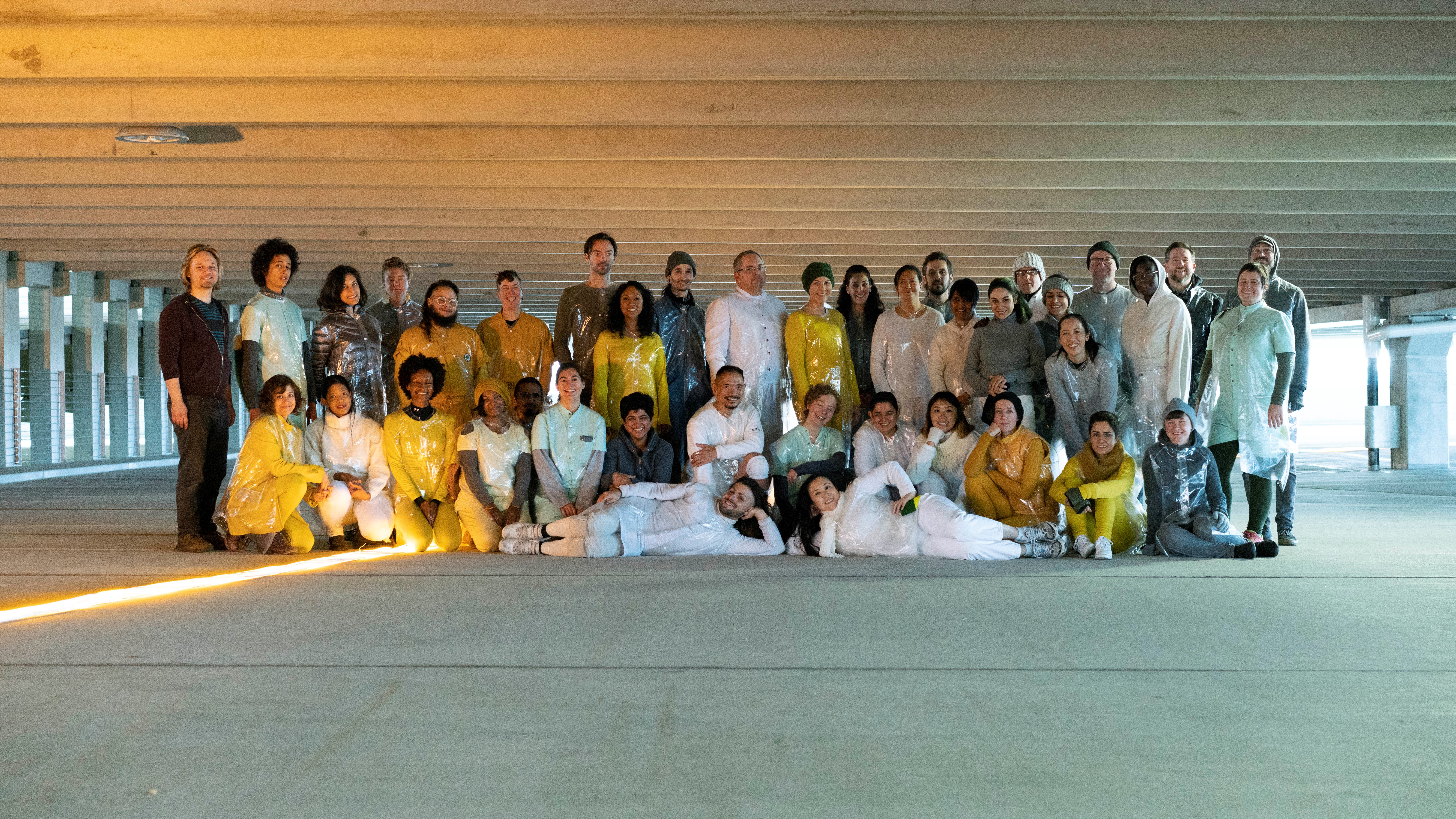 In September, 2018, Aniccha Arts premiered a performance installation at South Loop, inside the HealthPartners seven-level parking garage. The project asked questions about transience, migration, and stability in a space that temporarily stores cars and is home to nothing. Performers pervaded the parking structure with their bodies, working against the visible slant of the ramp to find their individual verticality. Audiences experienced the performance within the geometry of the setting sun, as the ramp turned into a theater with live sound and a tactile score.
Learn more:
This activity was made possible by the voters of Minnesota through a grant from the Metropolitan Regional Arts Council arts and cultural heritage fund, the Map Fund, Guggenheim Fellowship, and contributions by individual donors.
Additional support from: City of Bloomington Creative Placemaking Commission, Artistry, McGough, NorthernLights.mn
Illuminate South Loop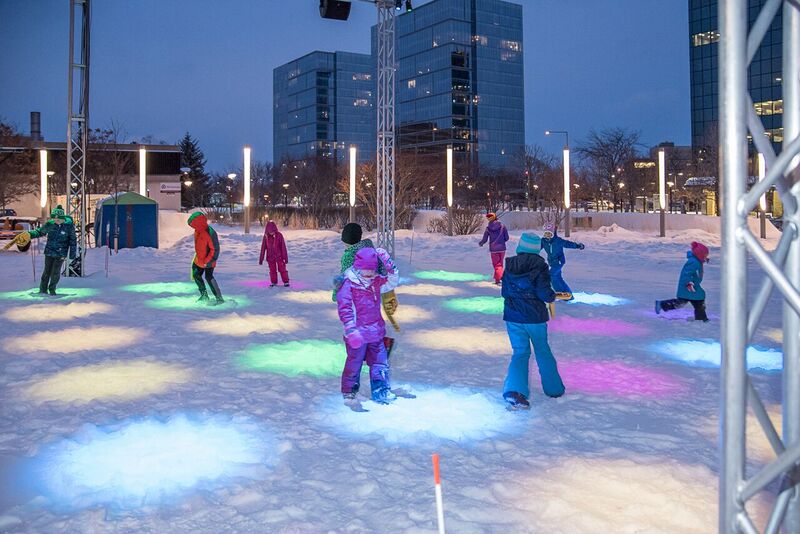 City of Bloomington and Artistry in partnership with Northern Lights.mn presented Illuminate South Loop, a free, three-day art event at Bloomington Central Station Park (8100 33rd Ave S) in South Loop from February 1 – February 3, 2018. The event was a unique addition to the lineup of activities leading up to Super Bowl LII, showcasing a variety of participatory art installations and performances designed and produced by Minnesota and international artists. This outdoor evening experience also included bonfires, and delectable eats and warm drinks from Urbana Craeft Kitchen, capturing the interest of locals and guests alike.
View a video summary of Illuminate South Loop here.
Illuminate South Loop Artists included Minnesota-Based: Alyssa Baguss, Eric William Carroll and Wil Natzel, Coffee House Press, Ben Moren, Plus/And (Amanda Lovelee and Emily Stover), Robin Schwartzman, Pramila Vasudevan, Pedro Lander, Emily Gastineau, and DaNCEBUMS. As well as: Daily Tous Les Jours (Montreal), Marina Zurkow and Paul Paradiso (New York)
Creative engagement activities
In 2017 we coordinated a series of fun, creative engagement activities as part of our creative placemaking efforts. We worked with Springboard for the Arts and their Ready Go mobile engagement tools facilitated by artists. We also offered a brief survey and an interactive poster with different creative placemaking project examples to understand what people are most excited to see in South Loop. Activities took place during events throughout Bloomington, such as the Farmer's Market, Normandale Band Shell Arts in the Park, Heritage Days, Bat Week Celebration at the MN Valley National Wildlife Refuge Visitor Center, a Creative Happy Hour Event and bus tour at Bloomington Central Park, and Fire Station #3 open house.
We heard from over 300 people. The creative projects people were most excited to see in South Loop included: festivals, music, gathering places, amphitheater, sculpture park, and creative benches.
Art Gate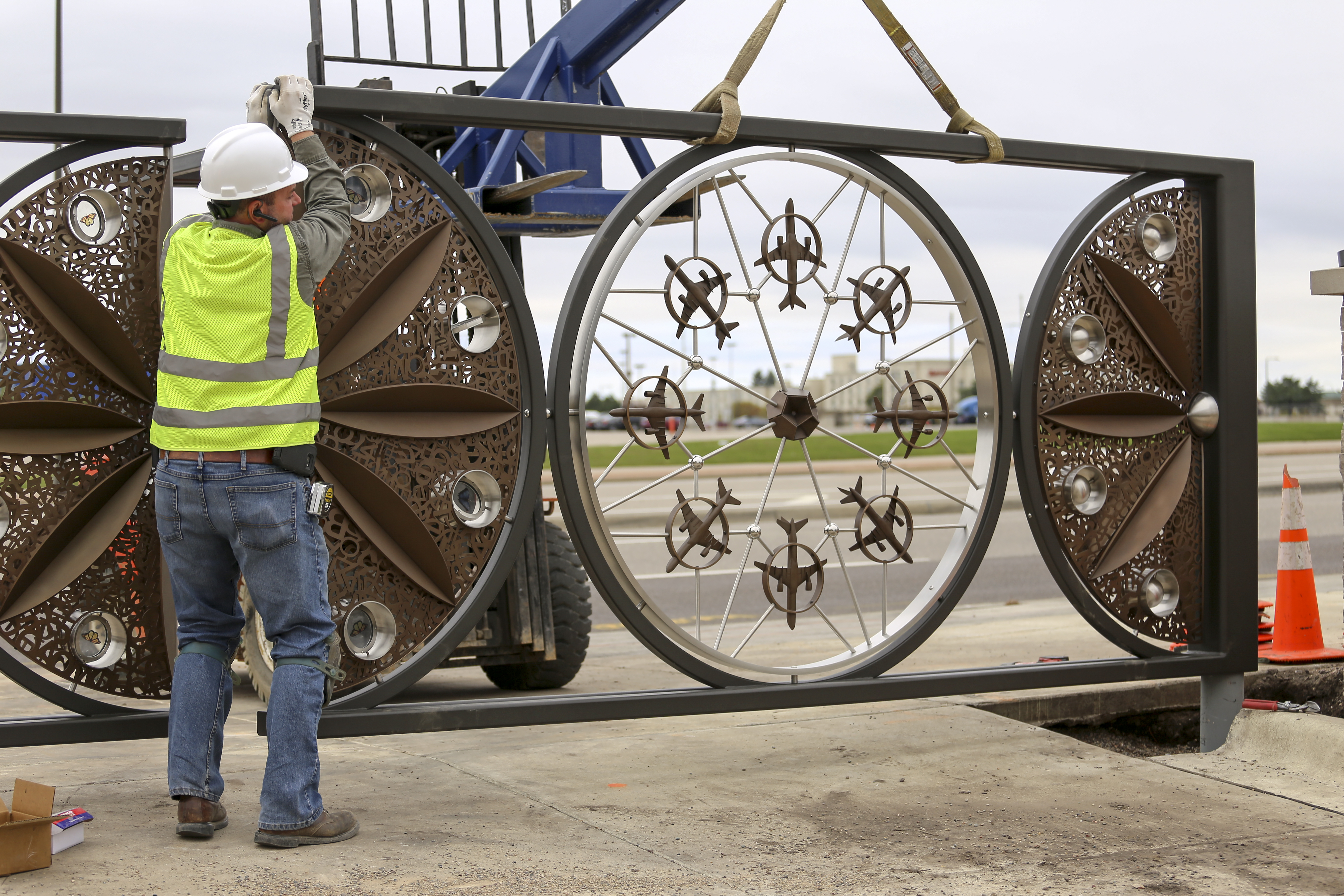 The Bloomington Kaleidoscope Art Gate, by sculptor Alexander Tylevich, is located on the property of TownePlace Suites at 2500 Lindau Lane, Bloomington MN, near the corner of 24th Avenue and Lindau Lane across from Mall of America. The six-foot tall, 20-foot long bronze and steel sculpture is an artistic interpretation of South Loop's important role as an international travel destination and represents the area's wildlife, natural beauty and diversity. This gate will serve as a fully functional emergency gate and will create an interactive point of interest, making the area more walkable, inviting, and attractive.
Landform art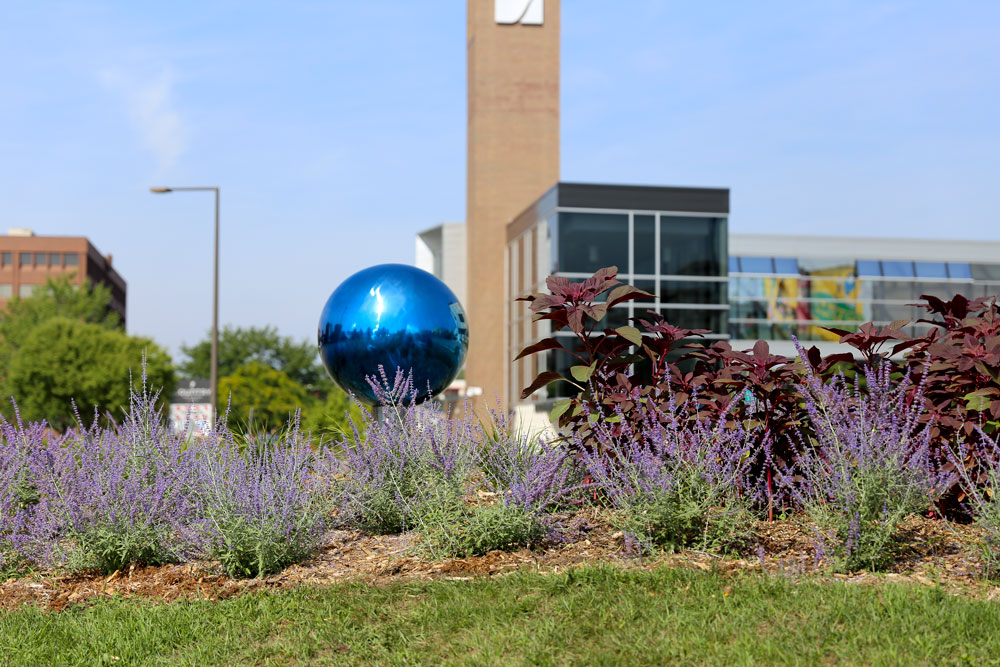 "Across the Universe," landform art by Tom Henry is a creative landscaping and art installation on the medians between Country Inn & Suites and Killebrew Drive. Plants include native perennials and annuals which allow for seasonal changes. The layouts create whimsical views for pedestrians, as well as for viewers from above. The artist considered water runoff and drainage in his design, and how the medians will be of great benefit for foraging "Blu bees" from the Radisson Blu and Country Inn & Suites's rooftop beehives. A stainless steel reflective globe was installed in the east median, representing a drop of water nourishing the field of beauty. These globes also make gardens healthier through electroculture. Electrolysis was used to achieve the vivid blue color of the sphere, adding more color to the area year-round.
Science and nature mural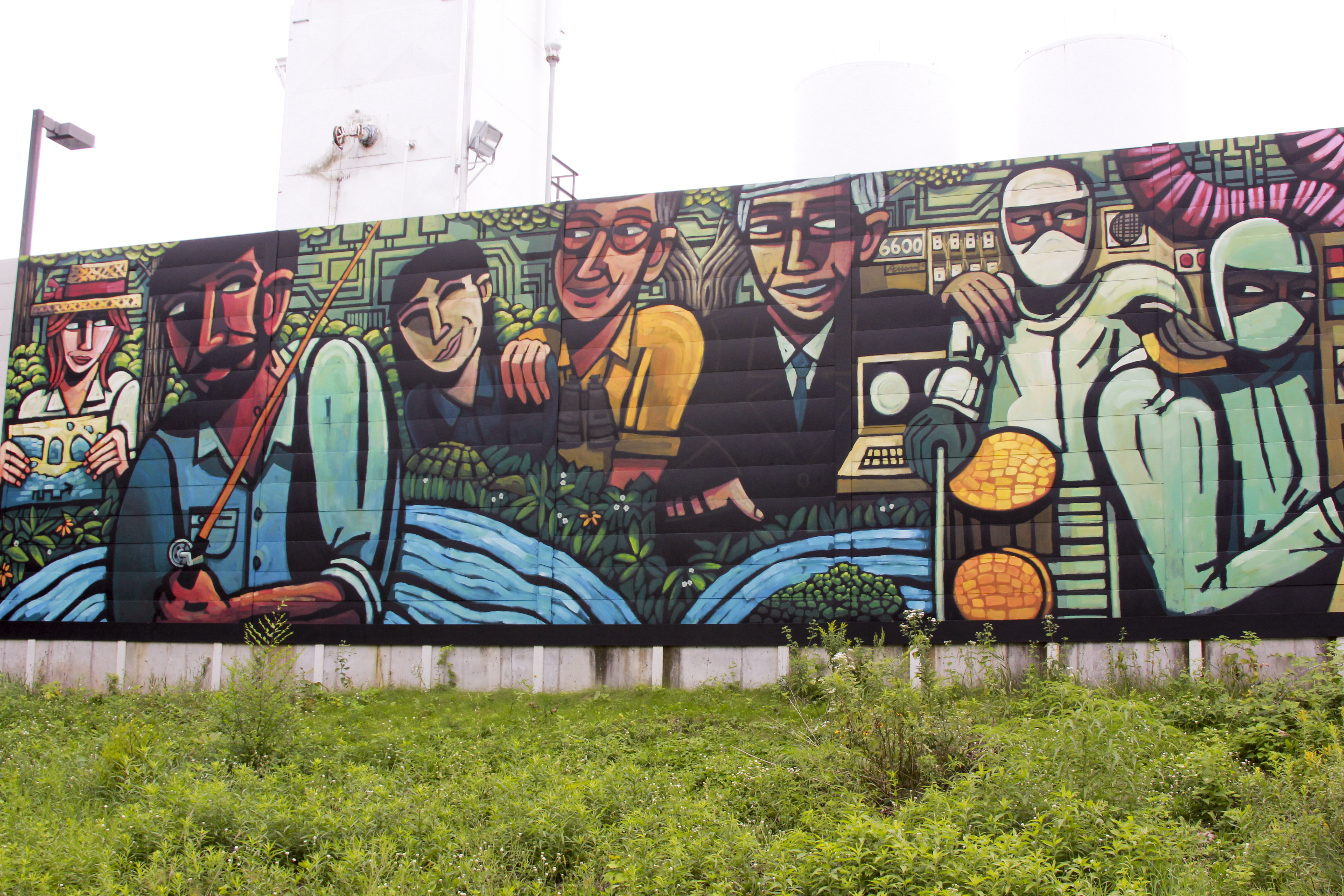 Erik Pearson, the artist who painted the Bloomington Civic Plaza mural, created a mural reflecting the connections of science, technology and nature at Cypress Semiconductor bordering the Minnesota Valley National Wildlife Refuge at the Bass Ponds parking lot.  The mural was unveiled August 27, 2015.
Convergence sculpture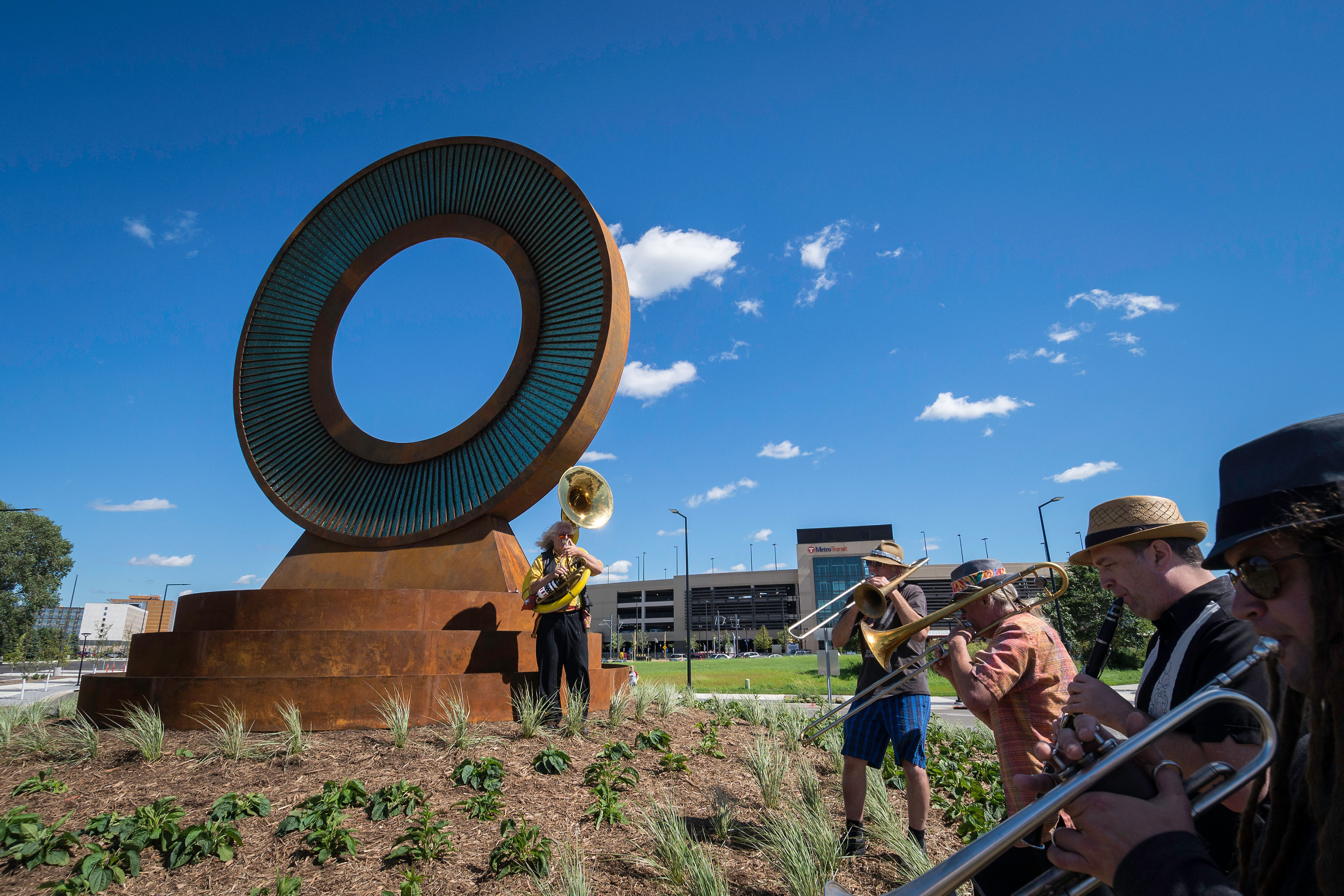 James Brenner designed and installed Convergence, a sculpture in the roundabout at the intersection of Lindau Lane and 28th Avenue near Mall of America. Brenner also designed the landscape surrounding the sculpture, which was unveiled August 20, 2015. Convergence is a landmark in a developing corridor that intersects pedestrian, automotive, and light rail traffic. The LED lighting illuminates the sculpture at night, and represents the three primary stakeholders of South Loop - residents, workers, and visitors. 
Brenner was featured in the January 3, 2016, episode of MN Original, tpt's weekly arts series celebrating Minnesota's creative community. The last half of the video features the Convergence sculpture being planned, created and unveiled.
After the Birds Taught Me To Fly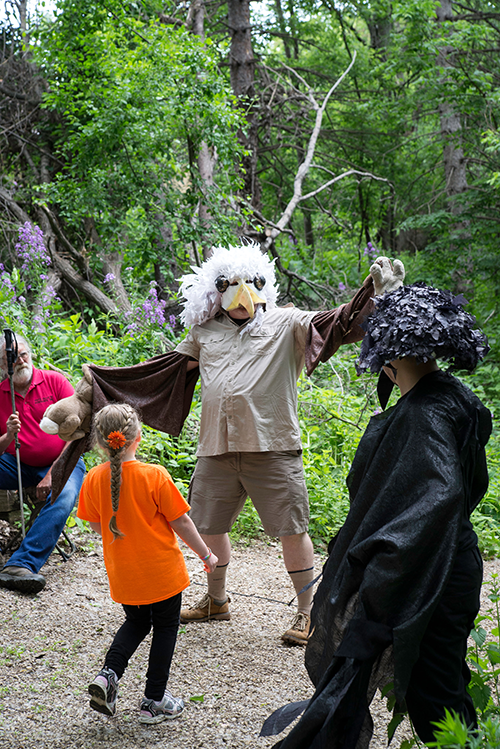 © 2015 Bruce Silcox
This one-­of‐a­‐kind production was staged on the grounds and walking-‐trails of the Minnesota Valley National Wildlife Refuge. The audience moved together from scene to scene in a style of mobile theater PlaceBase Productions has coined "Walking Theater." The original production was performed during the Twin Cities Urban Bird Festival, June 5-­7, 2015, to celebrate the rich history, culture, and local talent of the area and to support the Minnesota Valley National Wildlife Refuge's mission.
Little Box Sauna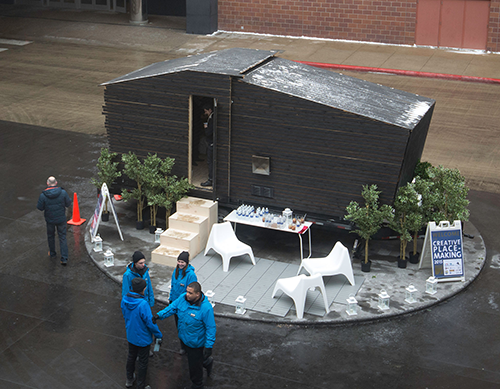 © 2015 Bruce Silcox
Little Box Sauna, by Molly Reichert and Andrea Johnson, is a mobile warming house that creates a visible, small-scale space for socializing. The sauna traveled through the South Loop in February and March of 2015. A new kind of "mobile hot spot," Little Box Sauna provided a one-of-a-kind opportunity for employees and visitors to socialize in a way that is new to the community, based on Finnish and other cultural traditions.
MinnPost article: Public urban saunas offer a double liberation from cramped Minnesota winters
South Loop discovery charrette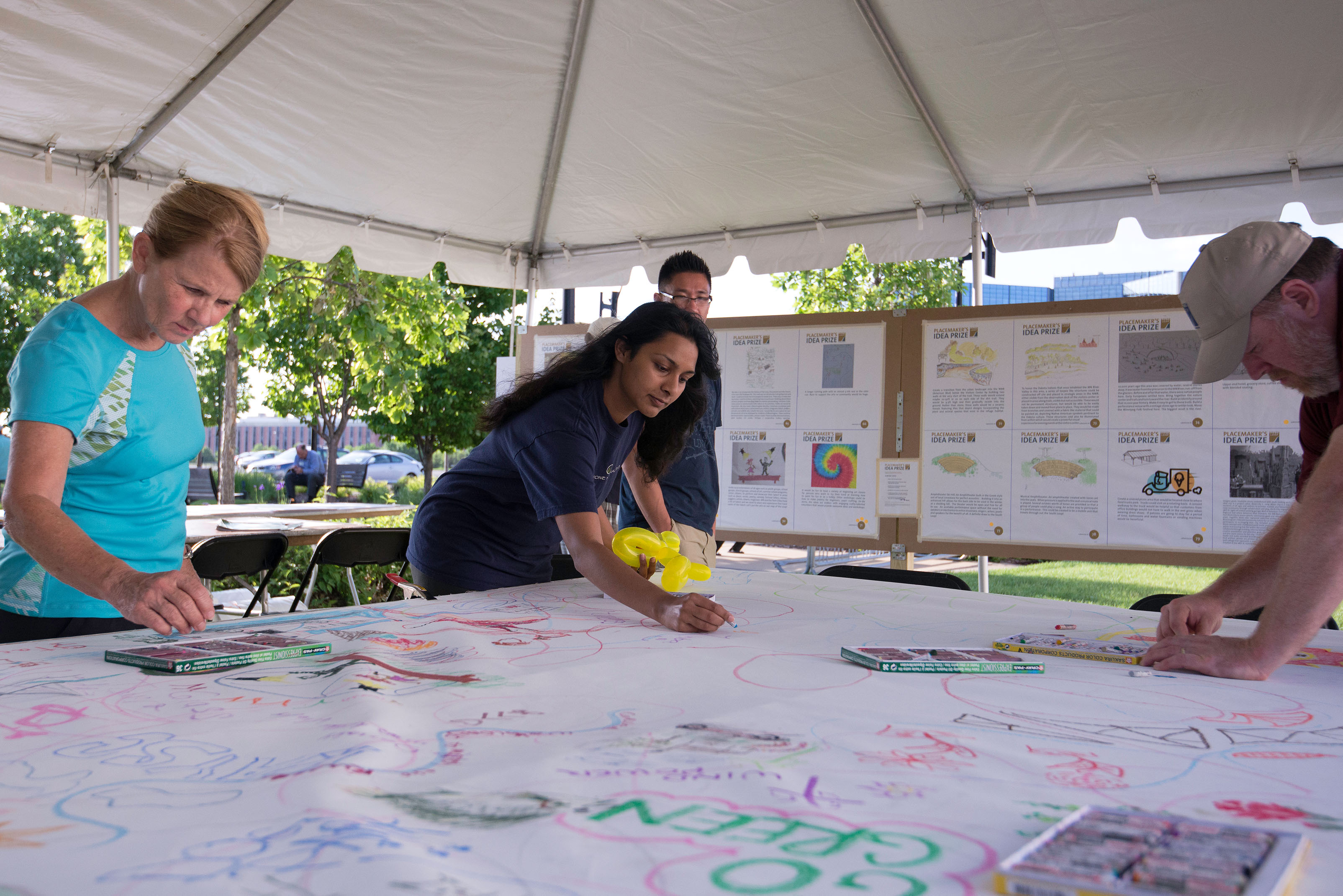 Creative Placemaking launched in June, 2014 at the Mall of America (MOA) and Bloomington Central Station with a community charrette that included walking tours, exploring the area's history, identifying promising public art sites, idea-sharing, art-making and a competition for creative ideas for the district. More than 200 people attended the opening day events hosted by MOA. The day culminated in a launch party hosted by City of Bloomington Mayor Gene Winstead, Artistry Executive Director Andrea Specht and MOA's Public Relations Director Dan Jasper.
Citywide creative placemaking projects
Old Shakopee & Old Cedar Placemaking
Old Shakopee Road & Old Cedar Avenue is a gateway to our community, with great businesses and access to nature. The City of Bloomington is working with local businesses at this key commercial center to provide resources for some quick-build improvements that will make this area even more welcoming and appealing and build momentum toward future public realm investments in the future. We coordinated a "Colors of Community" pop-up event in October 2022 to highlight local businesses and bring neighbors together.  
Stay up to date with projects in the area: Old Shakopee & Old Cedar Placemaking | Let's Talk Bloomington (bloomingtonmn.gov)
Neighborhood focus area - Hometown Poetry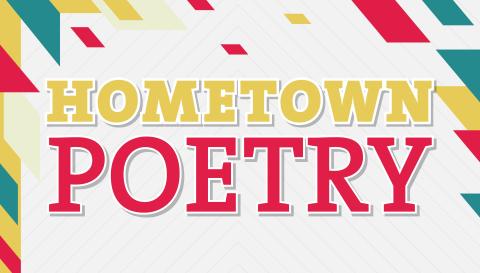 As part of the City of Bloomington's neighborhood focus initiative, and Bloomington and Artistry's Creative Placemaking efforts, fourteen poems will be stamped into new sidewalks and four will be on display on creative sign installations. 
The goal of Hometown Poetry is to celebrate art and literature and integrate it into our communities, highlight the talent of Bloomington writers, and bring a sense of surprise, delight, and contemplation to pedestrians. 
Please subscribe to the Creative Placemaking email list to stay updated.
Art Chat - Gateway District art spaces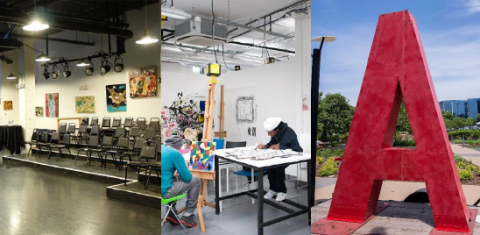 The City of Bloomington and Artistry in partnership with Springboard for the Arts coordinated an event in July, 2019 called Art Chat, where we invited artists and creative workers to share what type of artist spaces they would like to see in Bloomington, specifically along Lyndale Avenue in the Gateway Development District. We also distributed a survey to gauge interest in potential future spaces for artists. 
We shared survey responses with the consultant, Stantec, who are working on researching and developing a redevelopment plan for the Gateway District. They can help determine the feasibility of these types of spaces in this district, and perhaps identify developers who would be interested in pursuing this type of development. Here is a video with more info about our efforts.
Creative Placemaking news and notes
Articles and videos
City of Bloomington's Community-Driven Approach to Economic Growth, (KARE11, April 19, 2023)
The Minneapolis-St. Paul-Bloomington metro area ranked one of 40 most arts-vibrant communities of 2022, and third in the nation on government support for the arts. (SMU DataArts, April 2023)
WE Mural featured in John McGivern's Main Streets Bloomington episode (February, 2023)
Wright's Lake Park Seasons of Becoming mural by GoodSpace Murals featured in CODAmagazine "Placemaking with Intention" Issue (November, 2022)
Bloomington ranked in the top 50 cities to live in the US (Livability, July, 2022)
Photos: The 12-foot-tall American goldfinch that now calls Bloomington home (Bring Me The News, December 2021)
Community Mural Highlights Diversity in Bloomington (Minnesota Recreation & Parks Magazine, Fall 2021)
More Twin Cities suburbs draw on public art to develop sense of place (Star Tribune, September 25, 2021)
Mural taking shape in Bloomington's South Loop neighborhood (KARE 11, August 29, 2021)
Gorgeous Ice Sculptures Hidden Around The Metro (WCCO, February 17, 2021)
Itinerary of public art in South Loop, Bloomington Convention and Visitors Bureau (2020)
Minneapolis-St. Paul-Bloomington, MN-WI 8th most arts-vibrant large-size community (SMU DataArts, September 2020)
Wright's Lake Park Mural recognized nationally as an outstanding art project created in 2018, (Americans for the Arts, Public Art Network, June, 2019)
Chamber Forum: Economic Impact of the Arts (January, 2019)
'Parking Ramp Project' topped Twin Cities dance scene in 2018 (Star Tribune, 12/21/18)
Community Development Advice from an Artist (ARTPLACE,10/30/18)
Outdoor happy hour in Bloomington (Sun Current, 10/5/18)
Art Hounds Sept 27, 2018, podcast (MPR news, 9/27/18)
Bloomington parking ramp becomes dance venue for the weekend (Pioneer Press, 9/26/18)
Bloomington's new mural (Sun Current, 9/26/18)
Parking Ramp Project, (City Pages, Recommended Event, Sept. 2018)
10 great Twin Cities dance events for fall 2018, (Star Tribune, 9/13/18)
Little Box Sauna Brings Nordic Design to the Mobile Sauna (Midwest Home, Jan. 2018)
How Artists Are Helping Governments Reach Everyday People (Governing, 12/28/17)
Bloomington's South Loop turns to art to help paint a different picture of itself (Star Tribune, 11/6/16)
Bloomington bets placemaking will help bring more growth (Finance & Commerce, 7/27/16)
Bloomington adds placemaking and community engagement director (Finance & Commerce, 5/25/16)
Artistry and the city of Bloomington have announced the next phase of their public-private partnership to advance creative placemaking in the South Loop (MINNPOST Artscape, 8/6/15)
What's the next North Loop? It could be Bloomington's South Loop 

(Star Tribune, 6/31/15)

Artistic Endeavors in the South Loop

(Bloomington Briefing, 4/15)

Bloomington wildlife refuge to host creative placemaking musical

(Sun Current, 2/2/15)

Demonstration Projects Selected

(Bloomington Briefing, 12/14)

Making the South Loop Dance

(Bloomington Briefing, 8/14)

South Loop placemaking ideas rewarded

(Sun Current, 7/11/14)

Art takes a role in Bloomington's South Loop

(Star Tribune, 6/14/14)

Creative Placemaking in the South Loop

(Bloomington Briefing, 6/14)

Bloomington receives $100,000 arts grant

(Sun Current, 7/23/13)

Bloomington gets $100,000 federal grant

 (Star Tribune, 7/23/13)
CreativeMN Bloomington Arts and Culture Impact Report
A new study on the size and social, cultural and economic impact of the nonprofit arts and culture sector in the City of Bloomington was released in February 2021, by Creative Minnesota, Minnesota Citizens for the Arts, and the City of Bloomington. The Creative Minnesota study is part of an ongoing series of research reports about the arts and culture sector in Minnesota that is available for free online at CreativeMN.org.  
Creative Minnesota quantifies the impact and needs of Minnesota's artists and creative workers, updates previous studies on the economic impact of our state's 1903 nonprofit arts and culture organizations, and reviews other research about the arts sector in the state.