What is Sustainable Bloomington?
In 2016, the Bloomington City Council completed a strategic planning exercise and selected environmental sustainability as a strategic priority for the City of Bloomington. As an effort through the Sustainability Commission and Public Works, Bloomington is working to sustain water, land, energy, and waste by being forward thinking in the way that we address both sustainability and human behavior.
Sustainability accomplishments
Partners in Energy
The City of Bloomington works with Xcel Energy to promote efficient electricity use in our community through the Partners in Energy (PiE) program. This two-year initiative, begun in 2018, includes a community action plan for reduced electricity consumption, as well as provide tools and resources to enable and guide implementation of the strategies for achieving those goals. More info on Partners in Energy.
Donaldson Company: increasing efficiencies and reducing waste
Facility Engineering Manager Bill Coldwell began energy efficiency work on Donaldson's global headquarters by creating a "to-do" list for the six company-owned campus buildings. He worked with Xcel Energy's Process Efficiency program in 2010 to assess the half-million-square-foot campus to identify energy saving opportunities. The assessment identified more than 100 recommendations. With the list in hand, Coldwell could prioritize and begin implementing projects. He made fast progress, completing 40 projects in the first two years.
Bloomington is a GreenStep City!
Bloomington was proudly named a Step 3 City at the June 2018 League of Minnesota Cities Conference. This program of the Minnesota Pollution Control Agency recognizes Minnesota cities for their efforts to incorporate sustainable practices in business and residential area. Visit the Minnesota GreenSteps website for specific information on how Bloomington improving sustainability and quality of life for our community.
Organics Drop-Off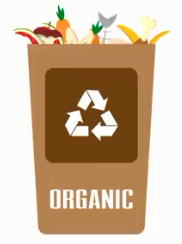 In April 2018, the City of Bloomington established an organics drop-off pilot program to collect organic materials to use in compost. With three locations opened, the program successfully welcomed more than 700 households in only the first two months of the program!