Contact Information
Contact Information
Emma Struss
Sustainability Coordinator
Title
Sustainable Bloomington
Sections
In 2016, the Bloomington City Council completed a strategic planning exercise and selected environmental sustainability as a strategic priority for the City of Bloomington. 
Ways to practice sustainability
Sign up for sustainability E-subscribe
Keep up to date on Sustainability related topics in Bloomington by joining our Sustainability e-subscribe list. 
Adopt a Drain
Volunteer fifteen minutes, twice a month, for cleaner waterways and healthier communities. Storm drains flow directly to local lakes, rivers, and wetlands, acting as a conduit for trash and organic pollutants. Adopt a Drain asks residents to adopt a storm drain in their neighborhood and keep it clear of leaves, trash, and other debris to reduce water pollution.
Learn more at adopt-a-drain.org
Plant a Pollinator garden in Your Yard 
Animal pollinators are critical to our food supply. About 75% of food crops and 90% of wild flowering plants depend on animal pollinators. Wild pollinators have declined locally and globally. Prairie wildflower plantings attract pollinators and sequester carbon below ground. 
Learn more at mnnativeintelligence.com
Control buckthorn and/or garlic mustard 
Invasive species like buckthorn and garlic mustard take over natural communities unless we intervene. They outcompete our diverse native trees, shrubs, and wildflowers, simplifying natural communities to few weedy species and making them more vulnerable to collapse. 
Learn more at the MN Department of Natural Resources website.
Plant a tree in your yard 
Trees exhale oxygen and reduce carbon dioxide, the primary greenhouse gas that leads to climate change. Climate change stresses out trees, leading to slow growth, disease, or even death. If there were no trees we would suffocate. We can help the forest adapt to climate change by planting trees that survive in our new climate. 
Learn more at the MN Department of Natural Resources website.
Schedule a Home Energy Squad visit 
Home Energy Squad is a low-cost program ($50 for many Bloomington residents, or free depending on income qualification) that gets you started with some basic home energy upgrades and personalized information to help you take the next step. 
Learn more at homeenergysquad.net
Eat a vegetarian dinner once a week 
Switching from beef to other meats is good, but switching away from meat entirely is even better. Going vegetarian for 1 out of 21 meals per week is a small step, but many people find they want to go further. It's also much healthier for you. 
Learn more at greeneatz.com.
Make your next vehicle a plug-in electric
Electric vehicle (EV) technology is now fully capable of replacing your "gasmobile", especially if you live in a two-car household. The 2020 generation of EVs are cheaper to own, more fun to drive, and just overall better than the equivalent gasoline-fueled cars – with dramatically lower carbon emissions. 
Learn more at driveelectricmn.org
Manage your food waste responsibly
The most carbon-inefficient food of all is the food we throw away. Avoid purchasing more food than you can eat, and compost your food waste – this prevents it from decomposing into methane, an extremely strong greenhouse gas.
Learn more at the EPA website and sign up for organics drop-off in Bloomington
Unplug Vampire Appliances
Whether your electricity bill is unpredictable from month to month or it's consistently higher than you would like, vampire power may be the culprit. Learn how to identify and manage vampire power in your home, and you may be surprised to find a reduction in power costs and help save the environment.
Learn more at paylesspower.com/blog/vampire-energy.
Home weatherization programs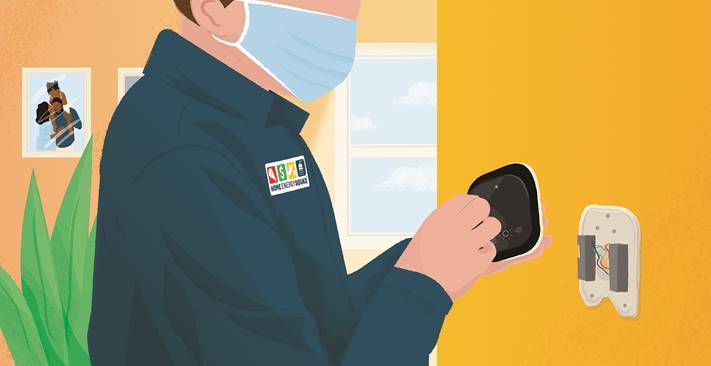 Home Energy Squad
The Home Energy Squad helps residents living in 1-4 unit buildings learn how their home uses energy and identify energy-saving opportunities. Both virtual and in-person visits are available. Learn more and sign up online. 
Weatherization assistance program
Bloomington households enrolled in the Energy Assistance Program are eligible for FREE weatherization assistance.
Services may include:
• Installing insulation
• Reducing air leaks
• Performing heating tune-ups and modifications
• Replacing appliances for energy efficiency and safety
For more information about the Weatherization Assistance Program, call the Sustainable Resources Center at 612-870-4255 or visit blm.mn/weatherize.
Organics recycling
Did you know the City has an organics drop-off program to collect organic materials to use in compost? Learn more and sign up online.
Buckthorn removal 
Learn how to clear pesky buckthorn step-by-step from Sustainability Commissioner Paul Erdmann and Assistant Maintenance Superintendent Dave Hanson. For more information about buckthorn removal visit blm.mn/buckthorn. 
Sustainability accomplishments 
Bloomington is a Minnesota GreenStep City!
Bloomington was proudly named a Step 5 City in 2021. Visit the Minnesota GreenSteps website for specific information on how Bloomington improving sustainability and quality of life for our community.
Partners in Energy 
The City of Bloomington works with Xcel Energy to implement Bloomington's Energy Action Plan through Xcel Energy's Partners in Energy offering. More info on Partners in Energy.