Environmental Health Links
Contact Information
Contact Information
Title
Food and lodging safety program
Sections
Since the mid-1960s, the City of Bloomington has maintained a food safety program to protect public health, to prevent foodborne illness and meet consumer expectations for cleanliness.  Environmental Health Specialists routinely inspect restaurants and other food facilities.  Each inspector is certified by the State of Minnesota as a Registered Environmental Health Specialist / Sanitarian.
New Food Code
Minnesota's new Food Code went into effect January 1, 2019.
[accordion]
Foodborne illness reporting and investigation
If you become ill after eating at an establishment in Bloomington or Richfield, please contact us. Your report may help us discover an outbreak of foodborne illness and prevent the spread of illness to others.
Foodborne illnesses can be reported in two ways:
Contact the Environmental Health Division at (952) 563-8934 or envhealth@BloomingtonMN.gov. Our business hours are 8 a.m. – 4:30 p.m. Monday through Friday.
Contact the Minnesota Department of Health at 1-877-FOOD-ILL (1-877-366-3455) or health.foodill@state.mn.us. Their business hours are 8 a.m.- 4:30 p.m. Monday through Friday.
If someone is not available to take your call you may leave a voice message with your name and telephone number. Someone will return your call the next business day.
Environmental Health staff will interview you using a standard questionnaire that focuses on illness history and food consumption. Because foodborne illness may occur hours to days after eating contaminated food, you will be asked to recall what you consumed up to 4 days before onset of illness. Interview responses are confidential; however, questionnaires are sent to the Minnesota Department of Health in an effort to detect outbreaks beyond the borders of Bloomington or Richfield. Environmental Health staff also contact or inspect the suspected food establishments and focus on safe food handling practices and policies as part of the foodborne illness complaint response.
Additional Information
Foodborne Illness (MN Department of Health).
Temporary Food Events
With limited exceptions, if you will be serving food at an event that is open to the public you need a temporary food license.  Examples include selling concessions at a sporting event or craft fair, handing out snacks at a fundraising event, or having a restaurant cater an event not held at the restaurant that is open to the public. Please contact the Environmental Health Division if you have questions.
The Temporary Food License Requirements Information Sheet gives an overview of requirements for serving food at special events.
The Temporary Food License Application must be filled out and submitted with the required license fee as listed on the application, 10 business days before the event.  The application can be mailed, emailed or faxed to the Environmental Health Division or dropped off in person at the Licensing Counter, first floor of Civic Plaza Monday-Fridays, 8 AM to 4:30 PM.
Focus of an inspection
Factors that most often contribute to foodborne illness outbreaks, according to the the Center for Disease Control and Prevention:
Food from unsafe sources
Poor personal hygiene
Inadequate cooking
Improper holding temperatures
Contaminated equipment
If not controlled, risk factors are more likely than other aspects of food safety to contribute to food contamination and foodborne illness. Food safety is largely based on daily control of foodborne illness risk factors. Therefore, routine inspections are directed by the establishment menu and focus on control of risk factors and additional interventions to foodborne illness. These additional interventions include insuring that the licensee:
Employs at least one full-time certified food manager – someone who has passed a food safety exam written by an approved testing company
Designates knowledgeable employees who monitor for safe food handling practices and properly functioning equipment, and make corrections as necessary
Follows a policy of keeping ill employees from handling food and requires employees to report illness symptoms
Trains employees on safe food handling practices
Types of establishments
Food establishments are grouped into three categories based on the kind of food offered and how it is prepared or handled prior to service. The types of establishments are:
High Risk - A facility that offers raw animal foods, or where food is cooked, cooled, reheated or prepared a day or more in advance of service.  These establishments have the most potential for the occurrence of foodborne illness risk factors due to complex food handling practices.
Medium Risk - A facility where food has already been cooked (precooked), and preparation or handling prior to service is limited.  These establishments have less potential for the occurrence of foodborne illness risk factors due to simplified food handling practices.
Low Risk - A facility that offers only prepackaged foods like candy, chips, sandwiches and soda that require no preparation or handling prior to service.  The potential for foodborne illness risk factors to occur is lowest due to limited food handling practices.
Frequency of inspections
On average, inspectors conduct two unannounced routine inspections per year in restaurants and other high risk establishments with follow-up inspections on items not in compliance.  Through uniform inspections, training and other activities, inspectors work with food employees and managers at every food establishment to ensure food safety with the common goal of preventing foodborne illness.  Since January 2005, routine inspections have been based on program standards recommended by the Food and Drug Administration (FDA), the Minnesota Department of Agriculture and the Minnesota Department of Health.
Food Collaborative
This is a collaborative partnership between the City's Environmental Health Staff and local food service industry representatives. The group meets quarterly and typically involves an educational presentation on relevant topics and openly discussing issues that impact the establishments. Certified food managers can also obtain continuing education credits for attending.
Food Safety Awards
Since 2001, the Bloomington Advisory Board of Health has presented awards for food safety in conjunction with the Bloomington Convention and Visitor Bureau's Diamond Service Awards. Nominees are selected by environmental health specialists based on inspection results.  There are five award categories, which are:
Full Service Hotel
Large Restaurant
Limited Service/Pizza Carryout
Fast Food/Cafeteria Service
Grocery
Industry volunteers interview the nominees and score them based on a set of criteria.  The interviewer scores and comments are submitted to the Advisory Board of Health, which chooses the finalist.
Below are the winners of the 2018 Food Safety Awards: 
Full Service Hotel
Radisson Blu, 2100 Killebrew Drive
Full Service Restaurant
Outback Steakhouse, 1321 E 78th Street
Fast Casual/Cafeteria
Ikea, 8000 Ikea Way
Naf Naf Grill, 326 Central Parkway
Quick Service/Limited Service
Holiday Inn Express, 7770 Johnson Avenue South
Grocery
Cub Foods, 8421 Lyndale Avenue South
Overall Food Safety
Radisson Blu Mall of America
For Licensed Establishments
Certified Food Manager Requirements
If you hold a Type I, II, or III license, one full-time State certified food manager is required. Consult the Minnesota Department of Health website for training and exams.
Certified Food Manager application and certificate verification
Helpful Documents
New Food Code
Minnesota's new Food Code went into effect January 1, 2019. 
Safe Food Temperatures
Serving safe food to the public is the responsibility of all employees.  Taking temperatures of food helps to make sure equipment is working properly and bacteria are not multiplying.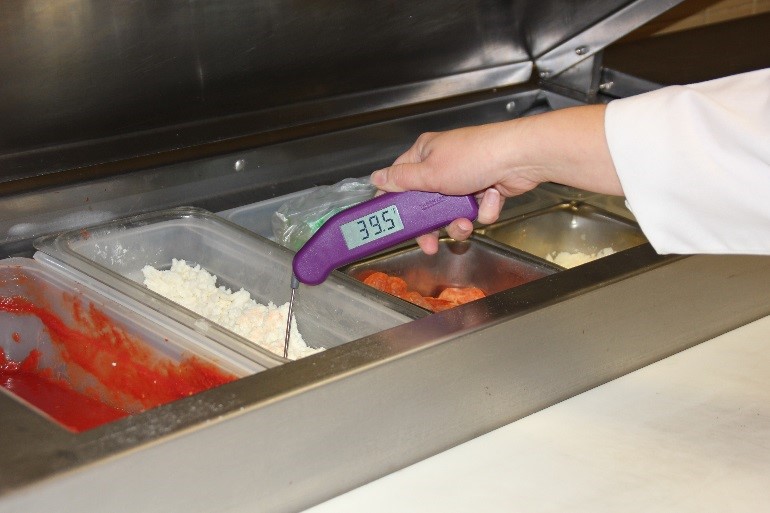 Health and Hygiene
Ill employees can spread foodborne illness to customers.  Managers must write down when employees call in sick or are sent home ill.    
Signs must be posted at each handwashing sink to remind employees to wash their hands.  Here are several examples.
You must have a plan on how to clean up vomiting and diarrhea in your facility.  Here is some information from Olmsted County. 
Allergens
There are 8 food allergens that account for the majority of allergic reaction.
Treenuts
Peanuts
Soy
Fish
Shellfish
Wheat
Eggs
Milk
Remember them with this sentence:
Today Serve Food-allergic People With Extra Safety Measures
Treenuts Soy Fish Peanuts Wheat Eggs Shellfish Milk
According to the FDA, Symptoms of food allergies typically appear from within a few minutes to 2 hours after a person has eaten the food to which he or she is allergic.
Allergic reactions can include:
Hives
Flushed skin or rash
Tingling or itchy sensation in the mouth
Face, tongue, or lip swelling
Vomiting and/or diarrhea
Abdominal cramps
Coughing or wheezing
Dizziness and/or lightheadedness
Swelling of the throat and vocal cords
Difficulty breathing
Loss of consciousness
See the FDA's website for more information.  
Construction or Remodeling
New construction or remodeling of existing food or lodging facilities requires a permit and review of plans.
For more information consult the following pdfs:
Note:  If you are building or remodeling in the City of Richfield, please use the City of Richfield "Environmental Health Plan Review" application found on their website:
New Recycling Policies
[[{"fid":"14988","view_mode":"embed_medium","fields":{"class":"media-element file-default cke_widget_element","data-delta":"25","format":"embed_medium"},"type":"media","field_deltas":{"25":{"class":"media-element file-default cke_widget_element","data-delta":"25","format":"embed_medium"}},"link_text":null,"attributes":{"height":"236","width":"420","class":"media-element file-embed-medium","data-delta":"25"}}]]
[/accordion]