Contact Information
Contact Information
Sections
What is the Portland Legacy Project?
The Portland Legacy project is a collaboration between the cities of Bloomington and Richfield who were selected to participate in the 2020 Congress for New Urbanism's (CNU) Legacy Project.  This initiative brings a nationally recognized design firm - TSW Architects and Planners out of Atlanta and Toole Design Group - to engage our communities to explore opportunities and actions both cities can take to revitalize this aging commercial area and enhance access and walkability. 
Normally, the process is based on a four-day community design workshop with an emphasis on face-to-face community participation. Unfortunately, the Covid-19 pandemic forced the postponement of the Portland Legacy Project activities planned in 2020.  This year, the TSW team conducted virtual stakeholder listening sessions, a virtual kick-off meeting and provided online engagement opportunities (see link below). 
The Portland Legacy Project encompasses the area within a quarter to half mile of the I-494 and Portland Avenue interchange, with a focus on the area along Portland between 77th St. and American Boulevard. The project area straddles Interstate 494, which serves as a major gateway to both Bloomington and Richfield. See map below.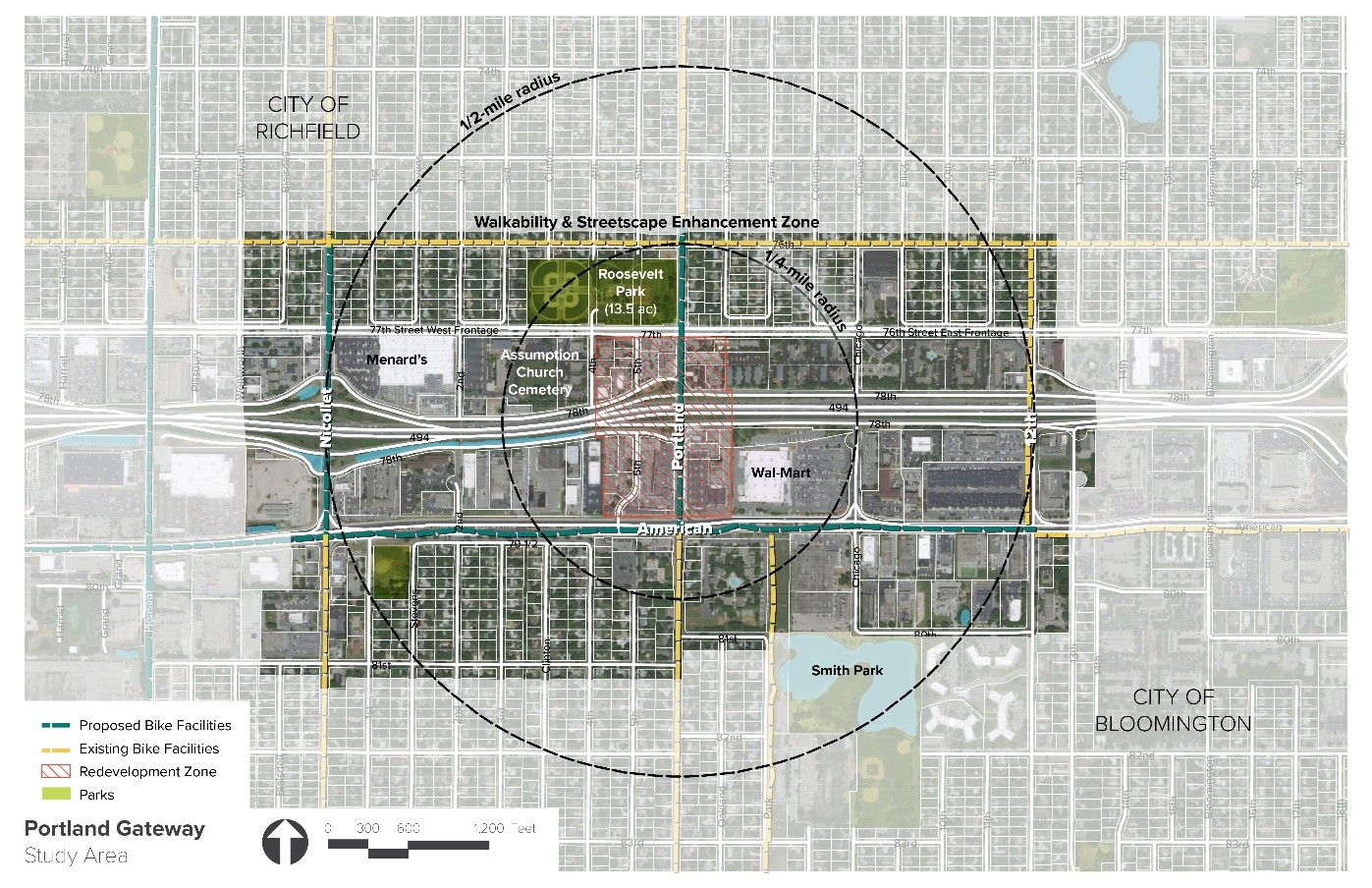 Revitalization:  Both Bloomington and Richfield are focusing attention on revitalizing aging commercial areas to create attractive, vibrant places that better serve their neighborhoods and changing demographics.  This area developed in the 1950s and 60s and many of the buildings are old with poor access and limited parking.  While there is a significant amount of nearby housing, the area lacks safe, comfortable routes for pedestrians and bicyclists and is lacking in landscaping or other amenities.  Key objectives are to make the area more attractive, create a sense of identity, and improve pedestrian and bicycle safety and access to nearby parks and businesses.
Coordinate with Major Projects:  Two major transportation projects are planned that will affect the area: 
MnDOT I-494 Access Study – MnDOT is evaluating access along I-494 that will result in substantial upgrades to the interchange at Portland Avenue.  This presents a unique opportunity to improve the streetscape, enhance pedestrian and bicycle safety, and create a major gateway entrance to Bloomington and Richfield. 
D-Line Bus Rapid Transit (BRT) - Two D-Line transit stops are planned in the area: one on American Boulevard just east of Portland Avenue and another at 77th Street in Richfield.  The D-Line – which is expected to begin operating in 2022 - will extend along American Boulevard and Portland Avenue; traveling through the heart of the project area.  There is an opportunity to improve pedestrian and bicycle access between the surrounding neighborhood and businesses to the planned transit stations in this area. 
Portland Gateway Report
The Legacy Project culminated in the creation of a framework report that summarizes key opportunities and challenges in the study area and defines a set of strategies the two cities can use to guide decisions about redevelopment and public realm enhancements.  The final report is conceptual in nature and is not the product of an extensive planning and iterative review process typical of our development district plans.  This report provides a thorough assessment of existing conditions and key challenges to redevelopment.  Because the project was a partnership between Richfield and Bloomington, some of the ideas presented are things one or the other city already does.  In addition, some ideas presented reflect strategies that have been successful in communities across the country and will require further study to determine if feasible in Minnesota. 
The full Portland Gateway Report is provided below.  Select sections are placed in separate tabs below for easy access:
PDF of full Report available here:  
Next Steps
Bloomington and Richfield officials will review and accept the Report at their respective meetings over the summer (2021).
The Report provides valuable base information staff and city officials can consider regarding actions such as: code amendments and rezonings; annual work plan items; and annual updates to the Capital Improvement Plan (CIP). 
As individual actions are moved forward, more extensive internal and community review will be conducted along with public hearings, if required.