About the Penn American District
With major transit investments expected to be made within the area, including I-35W Bus Rapid Transit (BRT) and the I-494/35W interchange rebuild, major changes in traffic flow are expected in the area.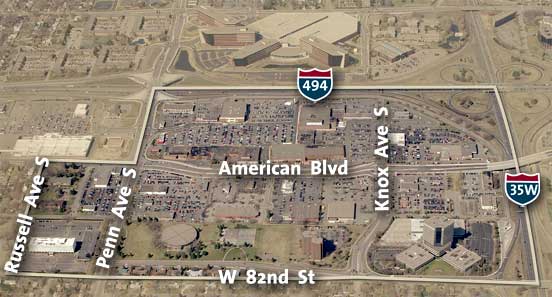 The Penn American District is the area along American Boulevard predominantly between Penn Avenue and I-35W. The City has identified this area as one in which redevelopment will occur over the next couple of decades.
Development phases
Phase 1 Penn American Development
Phase I opened in September 2012
Phase I of the Penn American development opened in 2012. The $45 million project includes 234 rental units in three buildings and over 14,000 square feet of retail. The development of the site is by Bloomington-based United Properties and StuartCo in cooperation with the Bloomington Housing and Redevelopment Authority and the City of Bloomington.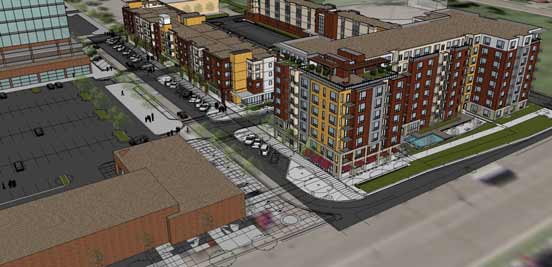 Residential along Penn Avenue.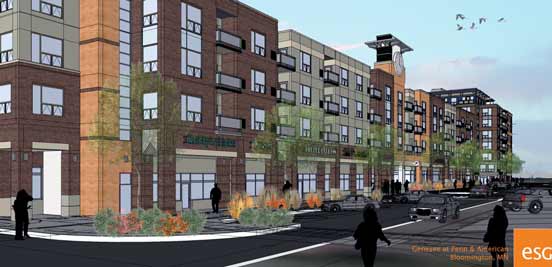 View along 80-1/2 Street, looking east.
Penn American designated Transit Improvement Area (TIA)
The Penn American District has been designated a "Transit Improvement Area" or TIA by the Minnesota Department of Employment and Economic Development.
TIAs are specially designated tracts of land near transit stations that support bus rapid transit, light rail transit or commuter rail and have the potential to increase ridership and stimulate new commercial and residential development. This designation makes Bloomington eligible to apply for future funding.
Penn American construction photos
City staff are regularly uploading photographs to our Picasa account for the public's information and for the use of our construction partners.
Phase 2 Penn American Development
Phase 2 of the in the district's development consists of a two-building, mixed-use project with surface parking and an underground public parking structure. The first building, fronting Penn Avenue, is a five-story, 80,520 square foot mixed-use building with retail space, 200-seat restaurant and a hotel lobby on the first floor, and a four-level, limited service, 108-room extended-stay hotel by Hilton on floors two through five above. The Home2 brand is a new brand for Hilton and was specifically designed for high-density urban locations.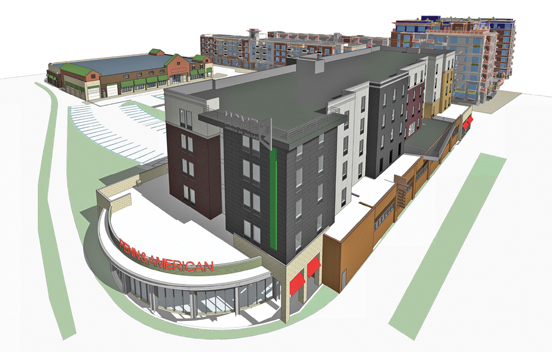 Penn American Development Phase 2 development
Phase 3 Penn American Development
Phase 3 of the district's development at the Southwest corner of Knox and American is The District Apartments with 248 units in two identical 124 unit two and four story buildings.   Of the 248 units, 50 will be affordable to lower income households at 50% of area median income and 198 units will be market rate.   The Apartment mix includes 35 studios, 119 one bedroom apartments and 94 two bedroom apartments.  There will be one level of enclosed parking under each structure, with additional surface and street parking.  Metro Transit will build an Orange Line Bus Rapid Transit station stop on site.
Penn American Phase 3 Residential
Penn American Phase 3 Bus Rapid Transit Station
Partners
City of Bloomington
Bloomington Housing and Redevelopment Authority
Metropolitan Council
Metro Transit
Hennepin County
Minnesota Department of Transportation
Bloomington Chamber of Commerce
Bloomington Convention & Visitors Bureau
United Properties LLC
Kraus-Anderson
Related content