Precincts and polling sites
The City chooses publicly owned buildings and places of worship for polling places because a long-term commitment is needed and sufficient parking is required.
Sample ballots are now available for each precinct.
See the precinct listing below for links to the ballots in PDF format.
Precinct list with polling locations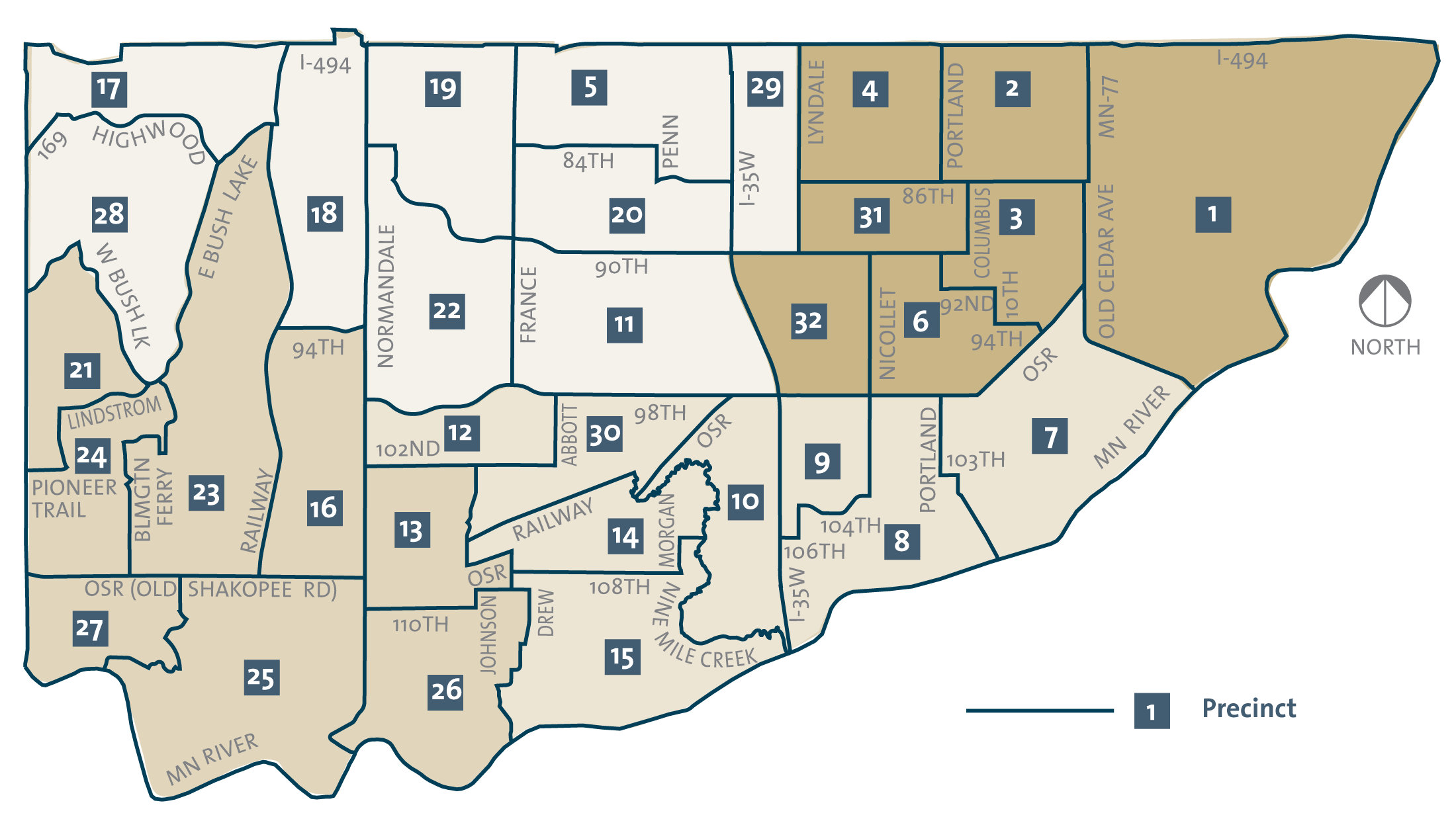 When sample ballots are available, you will find them posted below, under the address of each precinct's polling location.
1. Minnesota Valley National Wildlife Refuge Building
3815 American Boulevard East
West entrance, Visitors' lot (W)
Precinct 1
2. Portland Avenue United Methodist Church
8000 Portland Avenue South
Main entrance, West lot
Precinct 2
3. Cedar Valley Church
8600 Bloomington Avenue
West entrance (Door 4), South lot
Disabled: East entrance (Door 1)
Precinct 3
4. Unity South Church
7950 1st Avenue South
Main entrance, South lot
Precinct 4
5. Southtown Baptist Church
2600 West 82nd Street
Main entrance (W), Northwest lot
Precinct 5
6. Bloomington Lutheran Church
9350 Portland Avenue South
Main entrance, North lot
Precinct 6
7. Atonement Lutheran Church
601 E. Old Shakopee Road
Southwest entrance, South lot
Precinct 7
8. Grace Covenant Church
10201 Nicollet Avenue South
Southeast entrance, East lot
Precinct 8
9. Nativity of Mary Catholic Church
9900 Lyndale Avenue South
Main entrance (Door 9), South lot
Precinct 9
10. St. Luke's Lutheran Church
1701 West Old Shakopee Road
Northeast entrance, North lot
Precinct 10
11. City of Bloomington (Bloomington City Hall)
1800 West Old Shakopee Road
East entrance, East lot
Precinct 11
12. Crosspoint Church
9801 France Avenue South
Main entrance, East lot
Precinct 12
13. Bloomington Covenant Church
10150 Xerxes Avenue South
Main entrance (E), East and North lots
Precinct 13
14. Mount Hope Lutheran Church
3601 West Old Shakopee Road
Main entrance (S), South lot
Precinct 14
15. MN Valley Unitarian Universalist Fellowship
10715 Zenith Avenue South
Main entrance, North lot
Precinct 15
16. Normandale Hylands United Methodist Church
9920 Normandale Boulevard South
NE entrance (left doors), North lot
Precinct 16
17. Hyland Hills Ski Chalet
New Location Beginning in 2017
8800 Chalet Road
Main entrance, Main lot
Precinct 17 (SD 271 and 273)
Precinct 17 (SD 272)
18. The Church of St. Edward's
9401 Nesbitt Avenue South
SW entrance - upper level, Southwest lot
Precinct 18
19. St. Stephen Lutheran Church
8400 France Avenue South
Main entrance (W), West lot
Precinct 19
20. St. Mark's United Church of Christ
8630 Xerxes Avenue South
South entrance, Southwest lot
Precinct 20
21. Hyland Visitors Center
10145 Bush Lake Road
West entrance, West lot
Precinct 21
22. St. Michael's Lutheran Church
9201 Normandale Boulevard
Main entrance (E), Southeast lot
Precinct 22
23. Community of the Cross Lutheran Church
10701 Bloomington Ferry Road
Main entrance (N), North lot
Precinct 23
24. Bloomington Lutheran School
10600 Bloomington Ferry Road
Main entrance (S), South lot - disabled use east side
Precinct 24
25. Minnesota Masonic Heritage Center
New Location Beginning in 2018
11411 Masonic Home Drive
Dan Patch Hall entrance (W), West lot
Precinct 25
26. Transfiguration Lutheran Church
11000 France Avenue S.
Main entrance (W), West lot
Precinct 26
27. Bethany Church
New Location Beginning in 2018
6900 Auto Club Road
West entrance, West and North lots
Precinct 27
28. Peace Lutheran Church
New Location Beginning in 2018
8600 East Bush Lake Road
Main entrance, North lot
Precinct 28
29. Christ the King Lutheran Church
8600 Fremont Avenue South
Southwest entrance, Southwest lot
Precinct 29
30. Oak Grove Presbyterian Church
2200 West Old Shakopee Road
Main entrance, Northeast lot
Precinct 30
31. St. Bonaventure Catholic Church (Social Hall)
901 East 90th Street
Main entrance, East lot
Precinct 31
32. Oxboro Evangelical Free Church
9431 Nicollet Avenue South
North entrance, North lot
Precinct 32