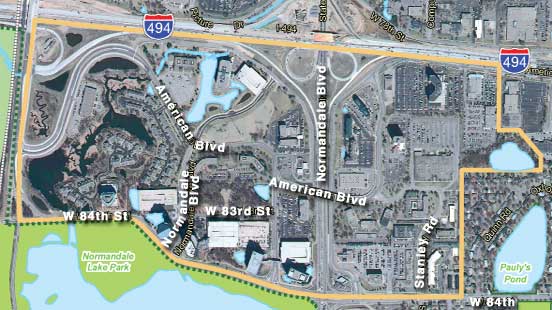 The Normandale Lake District Plan includes the area bounded by West 84th Street on the south, just beyond Stanley Road on the east, I-494 on the north and East Bush Lake Road on the west.
2017 Normandale Lake District Plan Update
The City is in the process of updating the Normandale Lake District Plan. For more information see the Plan Update project page.
Overview
The Bloomington City Council adopted and placed the Normandale Lake District Plan into effect on May 19, 2008, through Resolution 2008-50. The Normandale Lake District Plan describes the relationship between new development and redevelopment and the traffic improvements necessary to accommodate future development.
The Normandale Lake District is a highly attractive area that, with some finishing touches, will be recognized as a distinctive metro area destination and neighborhood. The District will be a great place to call home for some and provide a good job and a transit-oriented work location for others. For the traveler, it will be a favorite place to stay while visiting Bloomington. For walkers, runners and cyclists, the District will be a four-season place to enjoy the contrast between nature and the city.
Bloomington 's vision locates higher density, transit-oriented uses and regional shopping destinations along the I-494 and American Boulevard corridor. The Normandale Lake District is already established as the metropolitan area's preeminent suburban office location and as a popular park preserve. It contains about 15 percent of Bloomington 's future commercial and residential development potential.
Community benefits
Over 3,000 additional jobs, 500 new transit-oriented apartments, a revitalized neighborhood commercial center and regional park improvements.
Improved transportation and transit serving the District's residents and employees.
Balance created among residential, office, hotel and retail uses.
The environment and surrounding open space protected.
District's appearance unified with consistent streetscape, landscape and signs.
2008 Normandale Lake District Plan
Download entire Normandale Lake District Plan
Entire Normandale Lake District Plan (23.5MB, 141 pages)
Download Introductory Elements
Download Individual Sections
Download Appendixes
Study consultants​
SRF Consulting Group, Inc. assisted Bloomington City staff with plan preparation. Principal Beth Bartz, AICP led the Normandale Lake District Area Land Use/Transportation Study.
Other key personnel on the consultant team included:
Craig Vaughn, PE (Associate) was responsible for the traffic engineering components of this study.
Denny Eyler, PE, PTOE (Vice President) was responsible for the engineering design of alternate street and intersection designs.
Monique MacKenzie, AICP (Senior Planner) focused on urban design and land use relationships for this study.
Joni Giese (Landscape Architect) focused on urban design and park and trail aspects of the study.
Related links
The following recent and ongoing planning efforts relate to and will inform the Comprehensive Plan Update: