Contact Information
Contact Information
Emma Struss
Sustainability Coordinator
Sections
Energy efficiency by 2035
In 2018, Bloomington's Sustainability Commission recruited a twenty-five member Energy Action Team. Through numerous proposals, the group introduced many dynamic goals in both energy efficiency and renewable energy, which soon became the City of Bloomington's Energy Action Plan.
It is the belief of the City of Bloomington that it has a responsibility to proactively address climate change in order to prevent undue harm toward future generations. The energy actions outlined in this plan should help the City achieve a number of aggressive goals by the year 2035.
Community Energy Goal: 75% reduction in citywide energy-related greenhouse gas emissions.
Electricity Goal: 95% reduction in citywide electricity-related greenhouse gas emissions
Natural Gas: 33% reduction in citywide. natural gas-related greenhouse gas emissions .
Transportation: Pursue all viable opportunities for promoting the elimination of vehicle emissions, including support for electric vehicles, increased public transportation, higher-density and mixed-use zoning, additional biking and pedestrian infrastructure, and telecommuting.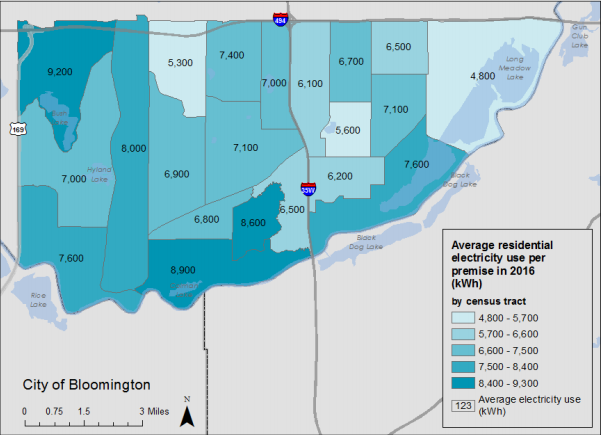 Focus areas before and after 2020
By 2020, the Energy Action Plan seeks to accomplish a number of near-term priorities and goals under its four focus areas. All of the strategies outlined in this plan, are expected to get Bloomington 60% of the way towards the annual average emissions savings needed to meet the City's 2035 goal of a 75% reduction in city-wide energy-related greenhouse gas emissions. 
After 2020, the City of Bloomington expects to continue building capacity, maintain support for the initiatives started in the first two years of Energy Action Plan implementation, and ramp up participation in existing programs.