Sidebar Widgets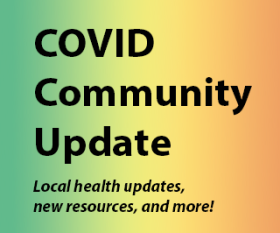 Contact Information
Contact Information
Minnesota Department of Health
Title
COVID-19 information for Bloomington
Banner
Sections
Bloomington COVID-19 community testing site closing Thursday, June 30. Located at the former DMV (9930 Logan Ave S.), the site's final testing date will be Wednesday, June 29. To schedule an appointment or search for other local testing sites, visit blm.mn/test.
Current levels and news
CDC has decreased Hennepin County's COVID-19 Community Level to Low as of June 23, after a recent peak to Medium. This does not mean there is no longer a risk. Case counts are still high, and data suggests there will likely be more peaks with summer gatherings, travel, and the coming school year. Now is a great time to get up to date on your COVID-19 vaccinations – they are still the best way to protect yourself, those at high risk, and medical staff against severe illness and hospitalization.
The time has finally come to protect our youngest against COVID-19! A Moderna 2-dose vaccine and Pfizer 3-dose vaccine are now available for children aged 6 months to 5 years. To register your child for an appointment, visit hennepin.us/vaccineregistration or call 612-348-8900 (help is available in English, Hmong, Somali and Spanish).
Boosters are now available to everyone 5 and older, and second boosters are available to those 50 and older, and the 45% of the public at high risk for severe illness. People at high risk include those pregnant or recently pregnant, those with weakened immune systems and those with medical conditions (including disabilities, chronic diseases, diabetes, cancer and other conditions detailed by the CDC). Find free vaccines, testing, masks and more resources at COVID-19 information for Bloomington.
As COVID-19 continues to evolve over time it's important to stay aware of changing risk levels in your community and any travel destinations, then take the appropriate precautions.
COVID-19 Community Levels are a tool to help communities decide what prevention steps to take based on the latest data. Levels can be low, medium, or high and are determined by looking at hospital beds being used, hospital admissions, and the total number of new COVID-19 cases in an area. 
Long COVID is affecting up to 1/3 of all COVID-19 patients