Contact Information
Contact Information
Title
City Council - School Board joint statement on immigration
Banner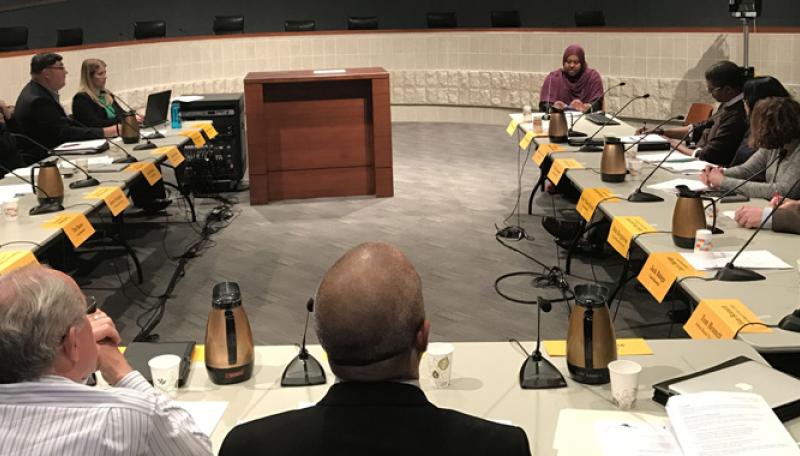 Sections
[tabs]  
English
Preamble 
We, the Bloomington City Council and School Board, recognize that current times have revealed an atmosphere of anger, fear and anxiety around immigration. These conditions have created incidents and uncertainties within our community that are very real. And where there are uncertainties for some there are uncertainties for all. 
Statement on Immigration
We believe diversity is one of our greatest strengths. We welcome a community that is a rich and beautiful tapestry of national origin, ethnicity, race, religion and other diverse identities. 
We are One Bloomington united by our desire to build a strong community that we can all enjoy. Our community members have a right to live their lives with dignity, free of harassment and unlawful discrimination. 
The City of Bloomington and Bloomington Public Schools are committed to: 
Engaging diverse Bloomington communities to identify effective actions;
Making services accessible and equitable to all regardless of immigration status;
Treating all who live, learn, work, worship, and play with dignity; and
Advocating for civil liberties, human rights, freedoms, and interests.
We invite the community to join the City and School District to: 
Participate in ongoing community conversations on immigration and equity;
Work together to achieve human rights and dignity for all; and
Learn more about your neighbors from all cultures.
On behalf of our respective organizations, we, Gene Winstead, Mayor of the City of Bloomington, Minnesota, and Ricardo Oliva, Chair of the Bloomington School Board, do hereby affirm the commitment to our values and beliefs in equity, inclusion, civility, and tolerance. 
Dated this 30th day of May, 2017 
Gene Winstead, Mayor, City of Bloomington 
Ricardo Oliva, Chair, Bloomington School Board
Español - Spanish
Introducción
Nosotros, la Junta Escolar y el Concejo de la Ciudad de Bloomington, reconocemos que los tiempos actuales han mostrado una atmósfera de odio, miedo y ansiedad sobre la inmigración. Estas condiciones han creado incidentes e incertidumbres dentro de nuestra comunidad que son innegables. Y donde existe incertidumbre para algunos hay incertidumbre para todos.
Declaración sobre la inmigración
Creemos que la diversidad es una de nuestras mayores fortalezas. Le damos la bienvenida a una comunidad con una hermosa y rica mezcla de nacionalidades, etnias, razas, religiones y otras identidades diversas.
Somos Una Bloomington unida por nuestro deseo de crear una comunidad sólida que todos podamos disfrutar. Los miembros de nuestra comunidad tienen el derecho de vivir sus vidas con dignidad, sin acoso ni discriminación ilegal.
La Ciudad de Bloomington y las Escuelas públicas de Bloomington están comprometidas a:
Involucrar a diversas comunidades de Bloomington para identificar acciones efectivas;
Hacer accesibles y equitativos los servicios para todos, independientemente de su situación migratoria;
Tratar con dignidad a todas las personas que viven, aprenden, trabajan y juegan; y
Apoyar las libertades civiles, los derechos humanos, la libertad y los intereses.
Invitamos a la comunidad a unirse a la Ciudad y el Distrito Escolar a:
Participar en conversaciones de la comunidad en curso sobre inmigración e igualdad;
Trabajar juntos para lograr que se cumplan los derechos humanos y haya dignidad para todos; y
Aprender más sobre sus vecinos de otras culturas.
En nombre de nuestras respectivas organizaciones, nosotros, Gene Winstead, Alcalde de la Ciudad de Bloomington, Minnesota y Ricardo Oliva, Presidente de la Junta Escolar de Bloomington, por este medio declaramos el compromiso de nuestros valores y creencias sobre la equidad, inclusión, urbanidad y tolerancia.
Fecha este 30 de mayo de 2017
Gene Winstead, Alcalde de la Ciudad de Bloomington
Ricardo Oliva, Presidente de la Junta Escolar de Bloomington
Soomaali - Somali
Horadhac
Anaga, Gollaha Deegaanka Magaalada Bloomington iyo Guddida Dugsiga, waxaanu aqoonsanahay in wakhtiyada hadda ay muujiyeen jawi cadho, baqdin iyo werwer ku xeeraan socdaalka. Xaaladahaan waxay abuureen shilal iyo hubaal la'aan bulshaddayada gudaheeda taas oo aad u dhab ah. Oo halka ay ka jirto kala duwanaanshahu qaarkood waxaa jira hubaal la'aanta dhammaan ah.
Warbixinta Socdaalka
Waxaanu rumaysanahay in kala duwanaanshahu uu yahay mid ka mid ah awoodahayaga ugu waa wayn. Waxaanu soo dhowaynaa bulsho qani ku ah oo qurux ku leh kala nooc ahaanshaha asalka wadan, isirka, sinjiga, diinta iyo aqoonsiyada kala duwan.
Waxaanu nahay hal Bloomington oo ku middoobay rabbitaankayaga si loo dhiso bulsho xoogan taas oo aynu dhammaan xiisayn karno. Xubnaheena bulshaddu waxay leeyihiin xaqa ay ugu noolaadaan noloshooda si sharaf leh, ka madax banaan dhibaatayn iyo takoor sharci darro ah.
Magaalada Bloomington iyo Dugsiyada Dad waynaha Bloomington waxaa ka go'an:
La shaqaynta bulshooyinka kala duwan ee Bloomington si loo aqoonsado tallaabooyinka saamaynta leh;
Ka dhigista adeegyada kuwa la heli karo oo loo siman yahay dhammaan iyaddoon la eegin xaalada sharciga socdlaaka;
Ula dhaqanka dhammaan kuwa ku nool, wax ka barta, ka shaqeeya, wax ku caabuda, oo ciyaara si sharaf leh; iyo
U doodista xoriyadda madaniga, xuquuqda aadamaha, xoriyadaha, iyo xiisaha.
Waxaanu ku marti qaadaynaa bulshadda inay ku soo biiraan Magaalada iyo Dugsiga Degmadda in:
Laga qayb galo wada sheekaysiyada socda ee bulshadda ee ku saabsan socdaalka iyo sinaanta;
Loo wada shaqeeyo si loo gaadho xuquuqda aadamaha iyo sharafta dhammaan ah; iyo
In la barto wax badan oo ku saabsan jaarkaaga ka socda dhammaan dhaqanada.
Anagoo ku hadlayna magaca ururada xishmadda leh, anagu, Gene Winstead, Duqa Magaalada Bloomington, Minnesota, iyo Ricardo Oliva, Guddoomiya Guddida Dugsiga Bloomington, halkan waxaanu ka xaqiijinaynaa u heelanaanta qimyamkayaga iyo rumaysnaanta sinaanta, isku dhafnaanta, reer magaalnimada, iyo dul qaadka.
Ku taariikhaysan 30ka Maayo, 2017
Gene Winstead, Duqa Magaalada, Magaalada Bloomington
Ricardo Oliva, Guddoomiye, Guddida Dugsiga Magaalada
[/tabs]