Contact Information
Contact Information
Title
Service Area and Park Planning
Banner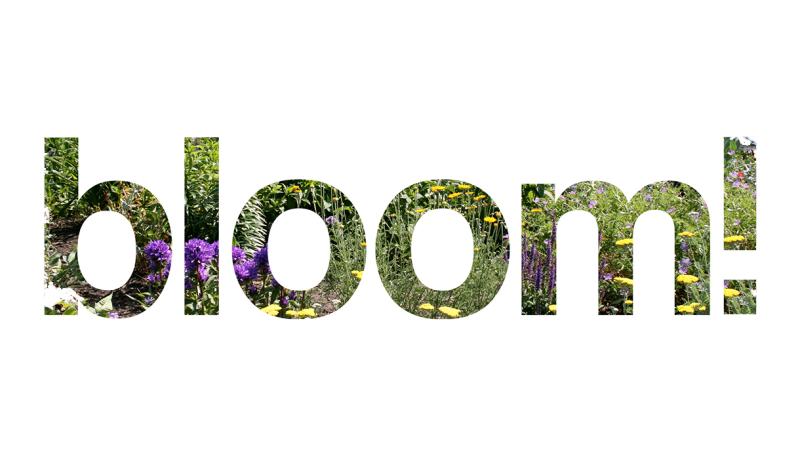 Sections
Visit the Park Planning project page at Let's Talk Bloomington to see updated draft concept plans for renewed amenities at Tretbaugh and Bryant parks. 

The City of Bloomington initiated the process of developing a new Park System Master Plan in November 2019. With extensive and invaluable assistance from consultants, City staff and most importantly the community, the plan is now complete. At its August 30, 2021 meeting, the Bloomington City Council formally adopted the Park System Master Plan.  
The Next Steps
Adoption of the master plan is just the first step. Now the work of developing service area and individual park plans begins. The Park System Master Plan, as adopted, provides a clear action plan and guidance for improvements to Bloomington's parks, trails, facilities, recreational programs and green spaces. The following nine parks have been identified for the first phase of planning: Brookside, Bryant, Gene Kelly, Poplar Bridge, Running, Smith, Southwood, Sunrise, and Tretbaugh.  
PARK CONCEPT PLAN DEVELOPMENT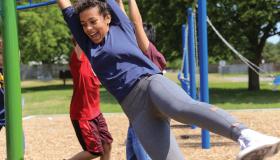 JUNE 2022
Feedback and opinions were gathered from hundreds of individuals who attended community conversations in the nine parks. Resident and stakeholder input at these in-person events along with input online at Let's Talk Bloomington was extremely valuable and helped guide the next steps in the process.
AUGUST 2022
The information gathered from the community was put to use as City staff and consultants gathered for an all-day workshop dubbed "Park-A-Palooza" to work on the next steps in planning. Based on public feedback, possible changes to the nine parks were discussed and preliminary sketches created to help conceptualize what the new parks might look like. Watch a video recap of Park-A-Palooza below. 
Park-a-Palooza recap
SEPTEMBER 2022
Once again, Community Conversation events were held at all nine parks to present the concept plans generated from the Park-A-Palooza workshop and to gather more input from residents and other stakeholders. That information was compiled and analyzed in anticipation of the continued development of draft concept plans.
FEBRUARY 2023
Draft concept plans for Tretbaugh and Bryant parks were finalized. These are the first two parks scheduled for redevelopment and renewed amenities. The concept plans can be seen at Let's Talk Bloomington.   
Community Conversations in Pictures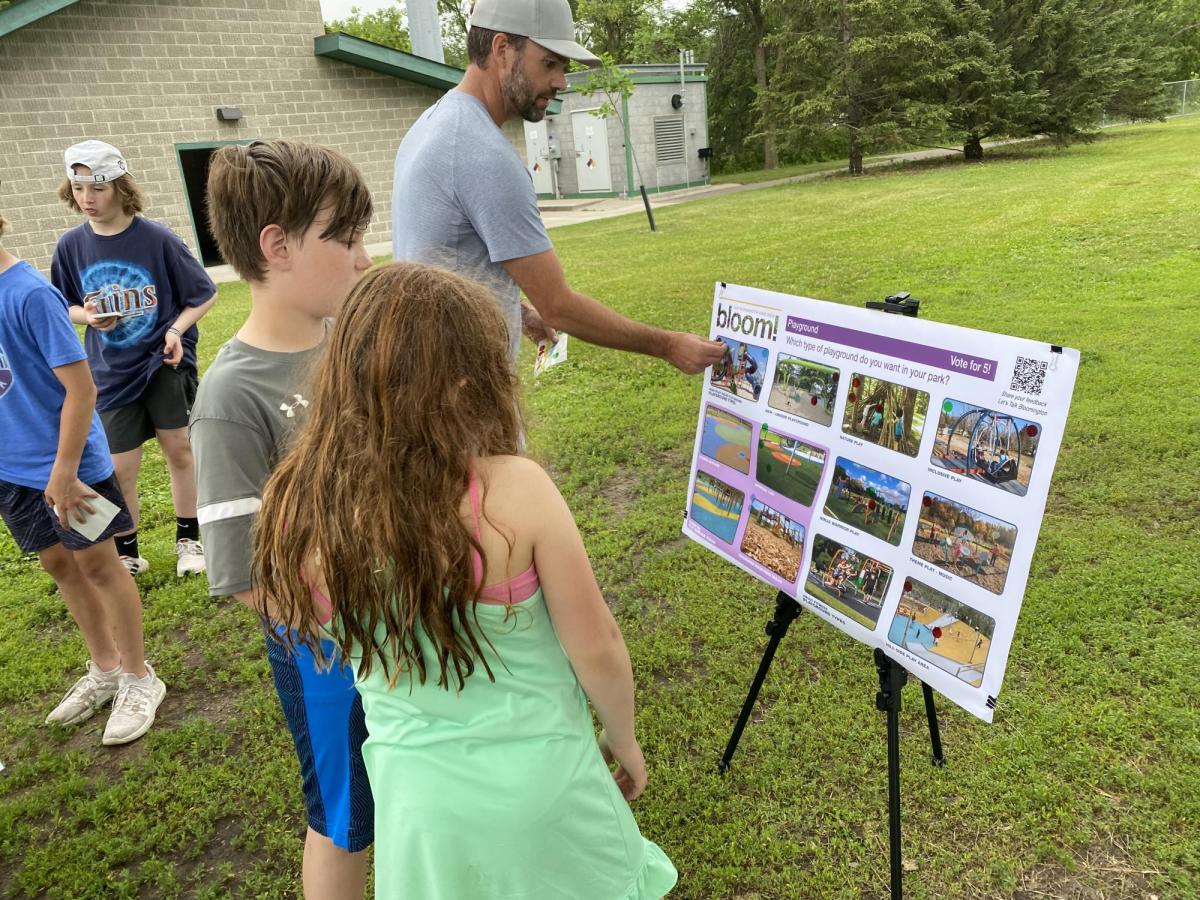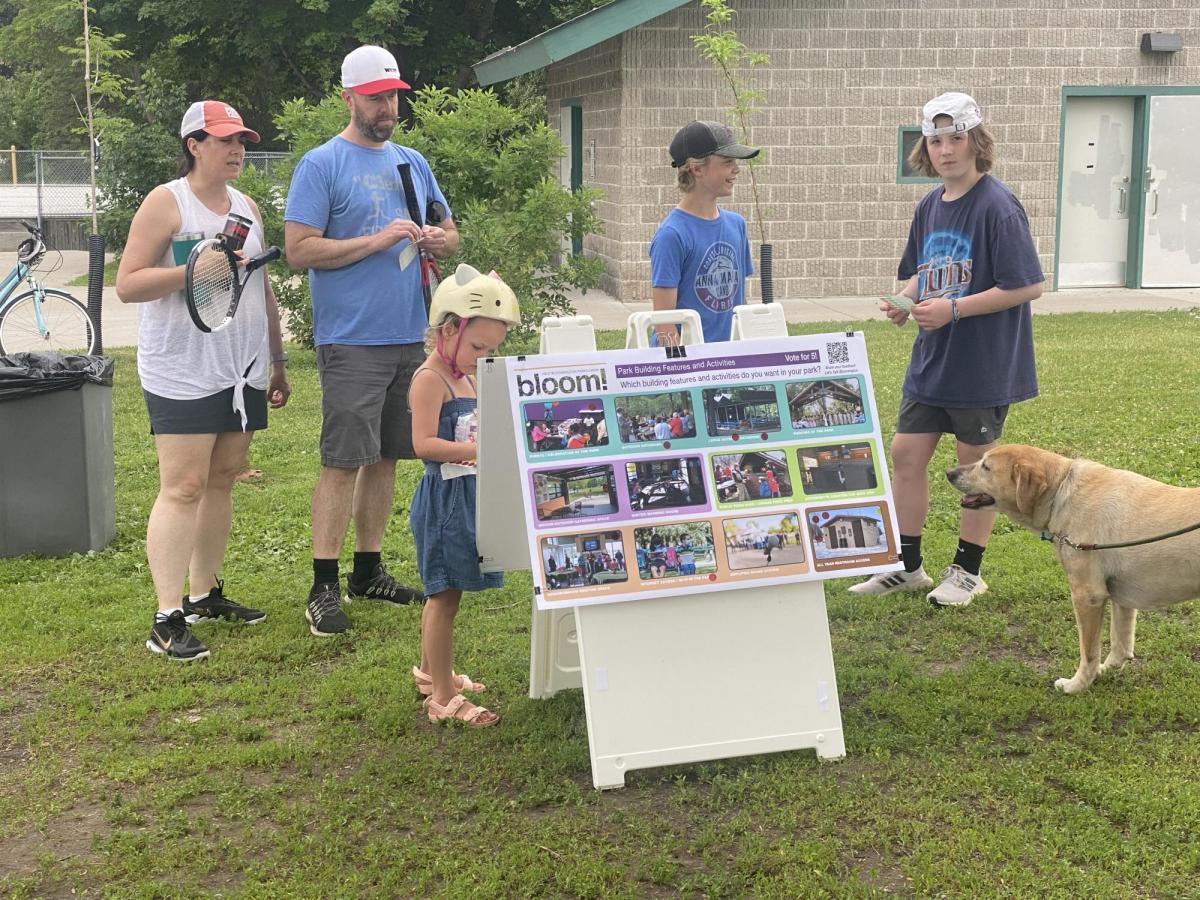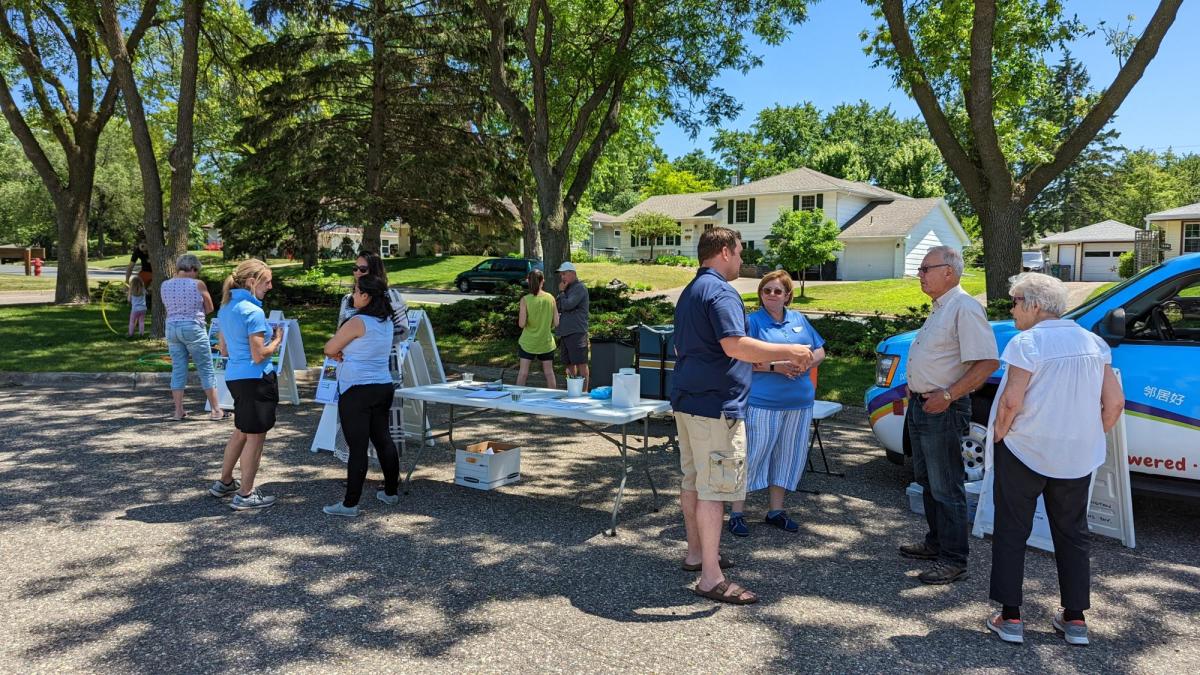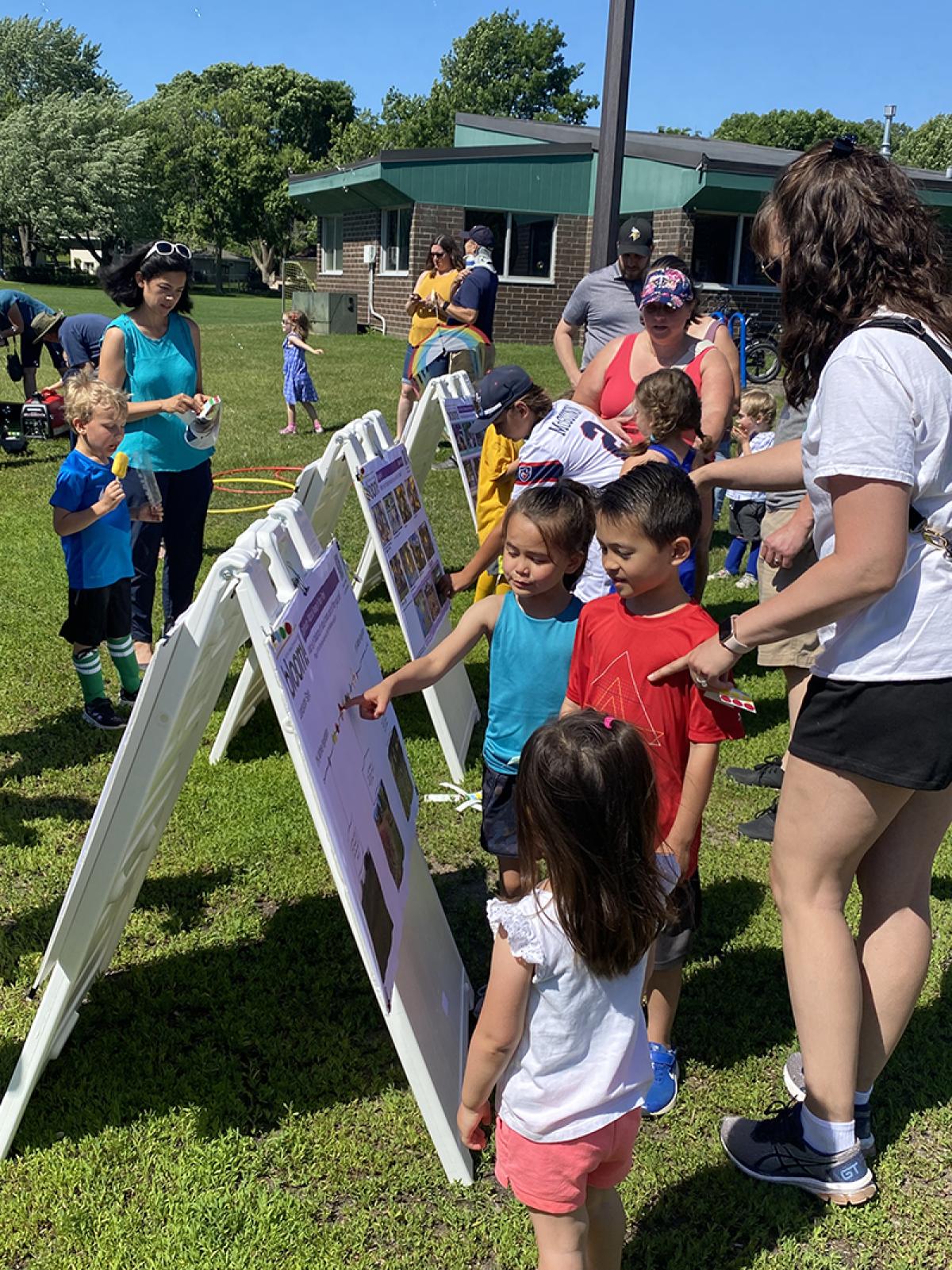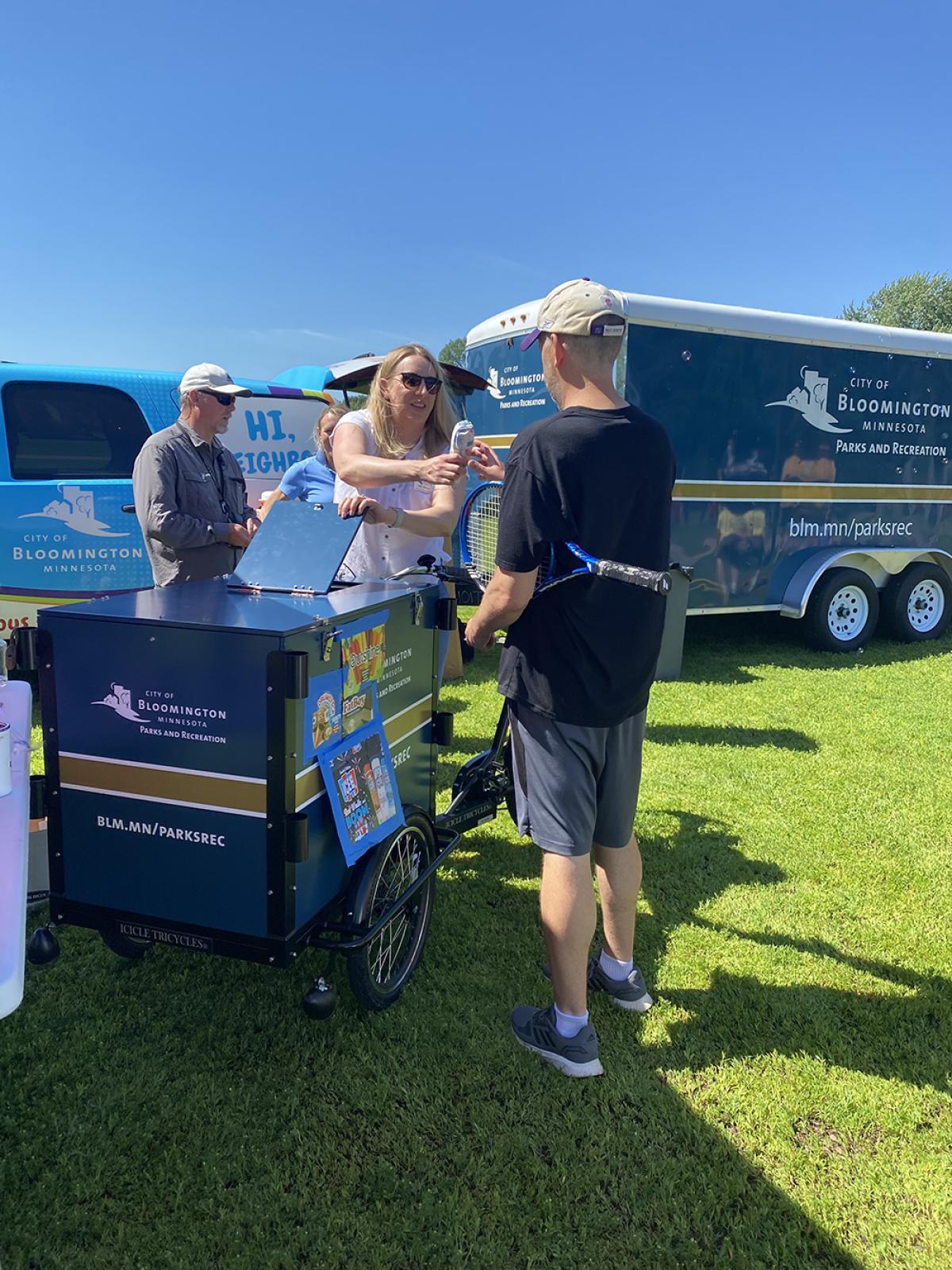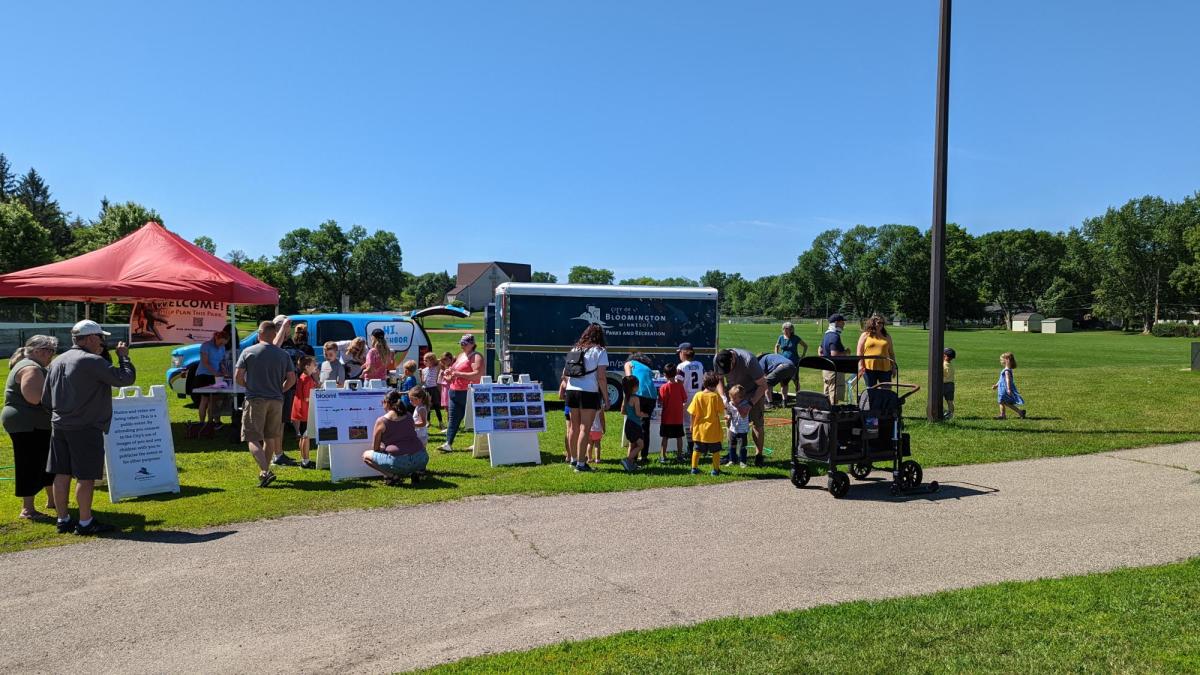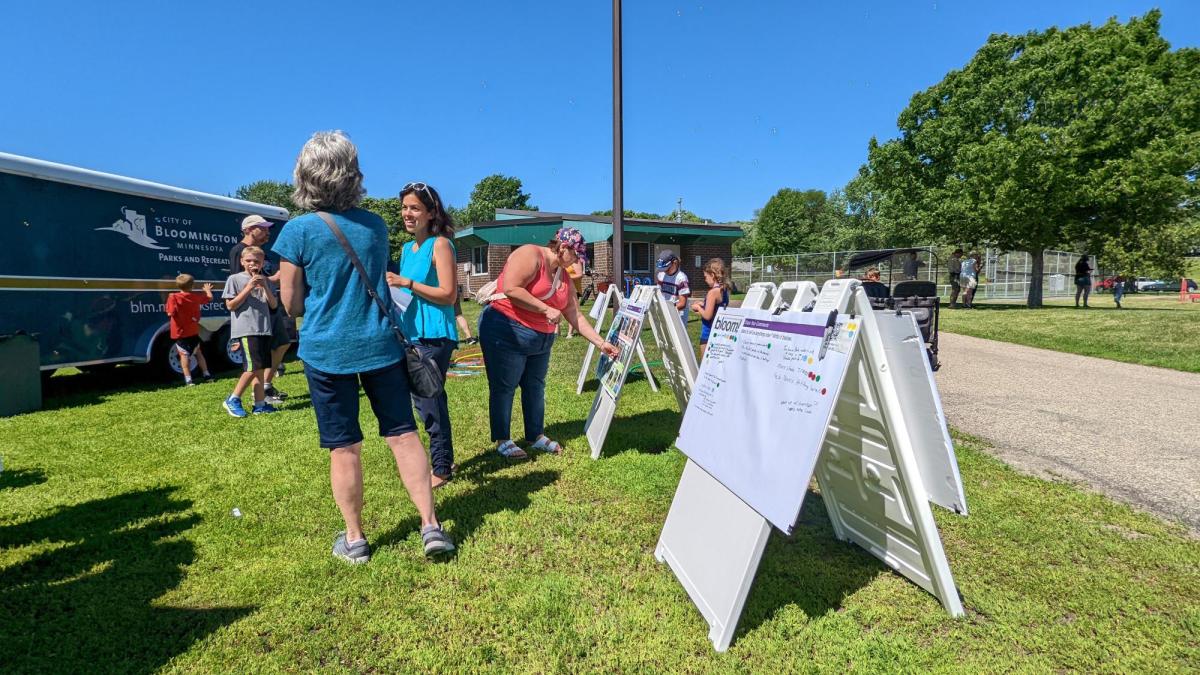 Overview 
The City of Bloomington has 97 parks, 45 playgrounds, 16 park buildings, 17 picnic shelters, over 40 miles of off-road trails, and 9,000 acres of parkland. Neighborhood and community parks are distributed throughout the City so that 87% of residents are within a 10-minute walk from parks or greenspace. Parks account for 36% of the City's land area. Bloomington's parks were developed over 50 years ago. Many parks were constructed with the same design formula and elements and have not been updated to reflect current trends in parks and recreation or the changing demographic of the City.  
Additionally, the park system also contains two golf courses, an art center, an indoor ice arena, an outdoor aquatic center, a community/senior center, a swimming and recreational beach and a variety of athletic fields. Many of these facilities were built in the 1960s and 1970s. 
While upgrades and replacement have occurred through the years, maintenance and modernization to meet changing needs remains a persistent challenge. The population and trends in parks and recreation have changed. The Park System Master Plan provides a road map for how to update parks to create a balanced system of amenities and recreational experiences. 
The Park System Master Plan
Park System Master Plan: In August 2021, the City Council adopted a Park System Master Plan (PSMP). Residents, City leadership and staff identified that significant investment is needed to update and improve the quality of parks. The PSMP provides a roadmap to guide park investments and programming to ensure that park investments are community-driven, equitable, and advance the priorities identified by the community. The PSMP establishes a commitment to deliver accessible, equitable, innovative, and high-quality recreational amenities and experiences. The PSMP establishes priority park elements (Attachment A) and guiding principles (Attachment B) which will be foundational to the Project. New investments will re-envision parks for today and into the future.  The entire PSMP can be accessed at https://www.bloomingtonmn.gov/pr/park-system-master-plan-2021.
The PSMP also supports a comprehensive array of arts, recreation, leisure and cultural programs to a diverse population with a wide range of recreational needs. Recreation program opportunities include: adult athletic leagues, outdoor skating rinks, adaptive recreation and inclusion services, arts-in-the-parks, bandshell concert series, special events (Summer-Fete, Winter-Fete, Halloween party, Easter egg hunt), River Rendezvous, golf, indoor figure skating/hockey, swimming, tennis, pickleball and summer playgrounds.
Service Area and Park Planning Details
Section Four of the PSMP is the Action Plan. It outlines goals and specific actions in 10 categories. The execution of the project will be consistent with the action plan, as applicable. The PSMP emphasizes the City's commitment to an equity-based approach to create and manage parks, trails and recreation programs to ensure all residents are served with parks facilities and programs they desire and need. Parks must reflect the neighborhoods and people that surround and use them. The PSMP addresses equity through two lenses.
The "citywide" lens looks at the whole City to understand the big picture needs, important geographic barriers, and relationships across the City.

The "neighborhood lens" zooms in on certain areas of the City and recognizes that neighborhoods are unique and have different needs and wants based on City infrastructure and demographics.
To operationalize these concepts, an Equity Prioritization Tool will be utilized. This tool uses neighborhood characteristics, population characteristics and park condition characteristics to calculate an equity prioritization value. A Geographic Information Study (GIS) is underway which will provide data to implement this tool.
The City of Bloomington will partner with design services to create park concept plans for nine neighborhood parks, schematic design for two neighborhood parks, and a design standard for park shelter buildings to be replicated across several City parks.
The City will work with a licensed landscape architect and other professionals as needed, including, but not limited to, licensed civil engineers and licensed building architects ("Design Team").  Collectively, the Design Team is expected to have knowledge and expertise in the areas of park design, park facility design, and trends and innovations in neighborhood park and park facility design.
The Design Team will collaborate with City staff, the City Council, the City's Parks, Arts, and Recreation Commission, and other City commissions in the execution of the overall project.
Community Involvement
Community engagement is a significant portion of the project. The Design Team will work with City staff on public engagement in all aspects of the project's execution.
The Project involves four components: community engagement, neighborhood parks, schematic design for two parks, and design standard for park shelter buildings.
Community Outreach and Engagement
Proposer will work with City staff to develop a community engagement and outreach plan that will guide this component of the Project.  Proposer will develop community engagement materials for public consumption, attend and lead several informational meetings at each of the nine neighborhood park locations, and attend and lead several public presentations to inform and gather feedback from the community.
Neighborhood Park Concept Plans
Proposer will complete individual park concept plans, consistent with the PSMP, for nine neighborhood parks: Sunrise, Southwood, Brookside, Poplar Bridge, Smith, Running, Gene Kelly, Bryant and Tretbaugh Parks (the "Neighborhood Parks"). Concept plans will build on the input the City gathered as part of the PSMP and the information in Figure 3-29: New Facility Proposed Locations (Attachment D). Concept plans must have enough detail to demonstrate a functional design, including information on grades, building location, inclusive play locations, and consideration of any regulatory issues. Concept plans are requested to include illustrative colored renderings for each site that will inform schematic design.
Concept plans for the neighborhood parks will build from the level of planning done as part of the PSMP including the Tretbaugh Park Plan Example attached. This approach to planning, considering parks across all service areas, is intended to achieve an appropriate balance of recreation facilities, programs, and experiences in each service area to support access to parks, trails, sports facilities, and recreation amenities that residents desire. Plans will consider the integration of natural resources and water resources improvements, transportation plans, access to utilities and fiber optics to support park amenities, phasing of construction, landscape and long term maintenance needs.
Schematic Design for Bryant and Tretbaugh Parks
The Schematic Design / 30% Construction Drawings for Bryant Park and Tretbaugh Park will build upon the concept planning phase to more precisely develop project design details and regulatory requirements related to all project components and specifically permitting and regulatory requirements, itemized cost estimates, phasing and schedule. This will include a Basis of Design report of the work and plan sheets related to existing and proposed conditions including surface and subsurface conditions, utilities plan, grading plan, site layout of all amenities, landscape plan, and illustrative colored renderings.
Stormwater management and natural resources restoration are expected to be substantial components of Bryant and Tretbaugh Parks. Bryant Park is 100% within a 100-Year Floodplain. Wetlands within the park have not been delineated and will be jurisdictional although they receive significant stormwater inputs. Improving water quality and floodplain storage are water resource goals for Bryant Park. Park designs will endeavor to integrate natural resources and the park user experience. The Consultant Team is responsible for performing wetland delineation and preparing all submittals for the approval of the wetland delineation and all wetland and water resources related permitting requirements of the Nine Mile Creek Watershed District, City of Bloomington and other potential State and Federal permits as may be required.
Proposer will complete a standard park shelter building design that can be replicated in eight of the neighborhood parks. The general scope of design for the park building is anticipated to be approximately 2,000 – 3,000 square feet, to include gender-neutral restrooms accessible from inside and outside, keyless entry system, internet access, compliant with American Disability Act, further sustainability goals from the PSMP "Action Plan", and that support year-round programming, including winter skating, private rentals, meetings, and camps[A5] [A6] .
The park shelter building design will be completed to Schematic Design Phase and specifically include project design details and regulatory requirements related to all project components and itemized cost estimate. This will include a Basis of Design report of the work and plan sheets related to existing and proposed conditions including surface and subsurface conditions, utilities, grading plan, site layout for each site. A representative illustrative colored rendering to inform design development is requested.
---
Staying consistent with the Park System Master Plan
All park concept plans, schematic design plans, and park shelter design will be consistent with the PSMP, specifically including priority park elements (Attachment A), guiding principles (Attachment B), and action plan (Attachment C). 
Natural resource improvements are a priority consideration for incorporation into all park plans. Considerations will include the incorporation of native plant restorations and water resources improvements to meet and exceed regulatory requirements. 
Completion of the Project will support future park renovation project planning and investments in site amenities, including placement of new park shelter buildings and design and placement of fully inclusive playgrounds at Bryant and Brookside Parks, as shown in Figure 3-30 (Attachment E) and 3-31 of the PMSP.

Action Plan 
The Action Plan consists of goals and actions in 10 categories. Together, this mix of new programs, tools, and partnerships outlines a strategy to re-imagine and upgrade parks in Bloomington. As implementation unfolds, the City will assess and monitor these actions with an emphasis on adequate staffing, financing, and equitable resource allocation. 
Along with a commitment to deliver accessible, equitable, innovative, and high quality recreational experiences, flexibility in implementation enables the City to adjust, refine, and improve strategies. 
Bloomington also recognizes that given the long planning horizon of the Park System Master Plan (PSMP) it may be necessary to modify specific actions as conditions change. Shifts in development patterns, redevelopment, demographic changes, technology, or recreational interests can reshape needs and priorities, warranting new implementation approaches. The PSMP and this Action Plan are living documents that guide, but don't prescribe. The expectation is that modifications will be made in the future. 
The PSMP policies reflect the overarching principles that seek to elevate the City's parks, facilities, and programs into an excellent system in the future. The icons next to the policy categories represent the four PSMP Guiding Principles and the seven City Council Priorities that are working together.
View the tabs below for more details on the individual parts of the Action Plan or download the Action Plan as a PDF.