Crime Prevention Unit
The Crime Prevention Unit is responsible for building working relationship with the community and helps educate community members on preventing crime to property, their identity and themselves. The unit works with Patrol Officers to address neighborhood and business issues and facilitate problem-solving methods. Programs such as Neighborhood Watch, Business Watch, Places of Worship Collaborative and Crime Free Multi-Housing are key aspects of the Crime Prevention Unit. Presentations, education, workshops and community events such as National Night Out are coordinated by this unit. 
The unit is comprised of a Sergeant, 2 Officers, a civilian Crime Prevention Coordinator and a civilian Social Worker (in partnership with Hennepin County). They are highly trained in all areas of crime prevention including personal safety, senior scams, active violence, home security and identity theft. 
Investigations
Investigators and supervisors in the Investigations Division are assigned to one of three units: Property Crimes, Crimes Against Persons, or the Special Investigations Unit, where a crime analyst is also assigned.
Special Investigations Unit (SIU)
SIU conducts narcotic and human trafficking investigations and is responsible for gathering, disseminating and responding to crime trends and hot spots in the city. SIU also works on fugitive and probable cause pick-ups, and assists other City divisions, including Environmental Health and Building and Inspection, with community quality of life issues.
East / West Unit
The East and West Units were established to provide additional opportunities for area integrity and accountability. Every Detective is assigned to one of the two areas. Both East and West Units investigate a wide variety of crimes, to include, but not limited to, minor assaults, child abuse and neglect, crimes against vulnerable adults, sexual assaults, robberies, homicides, theft, burglary, property damage, complex financial and white-collar crime cases.
In addition, both units conduct alcohol and tobacco compliance, and take part in the school liaison program which includes: two high schools, three middle schools, 10 elementary schools, and various private schools in the city. Members of these units also monitor pawn shop activities, handle firearm permits, run various background investigations for the licensing section, and assist the Fire Department with arson investigations when requested.
Finally, the department's forensic computer specialist, polygraph operator, and Auto Theft Bait Car and Crime Tech programs are held/ managed within these units. 
Evidence and Property Control
The Property Room at the Bloomington Police Department holds approximately 60,000 pieces of evidence and recovered property. Two Property Control Specialists maintain custody and control of all inventoried property brought into the Bloomington Police Department.
Click here to send an email to the Property Room.
Patrol Operations
The Patrol Operations is the largest division and the core of the Bloomington Police Department. Patrol is generally the first assignment for new officers who work uniform patrol 24/7, responding to calls for service in the city.
Canine (K-9) Unit
The Bloomington Police Department has five officers and their canine partners assigned to this specialized unit. The K-9s are assigned to Patrol Operations and handle all facets of regular patrol work, but are available for specialized work such as:
Burglary or robbery alarms
All crimes in-progress calls
Area and building searches
Vehicle and narcotic searches
Tracking and apprehension of fleeing suspects
Searching for lost persons
K-9 teams go through ongoing training to maintain and improve their specialized skills, whether it is a bomb or narcotics. Some of the dogs are cross-trained to specialize in more than one area.
Bloomington's K-9s are a unique blend of breeds. We have German Shepherds, a Malinois, a Dutch Shepherd and a Golden Labrador. When not at work, the K-9s live with their handlers and are a valued part of the family.
K-9 demonstrations and requests
Contact Sergeant Joe Spark by telephone at 952-563-8875 or by email at jspark@BloomingtonMN.gov
Patrol districts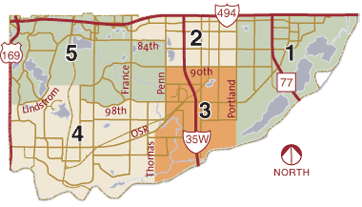 Patrol staff
Our patrol officers work either 10-hour or 12-hour days. With these hours, we have five different shifts that have many overlapping hours. Even with its complexity, this schedule has provided the Patrol Division opportunity during the day to engage in more proactive activities. Our core mission will always be responding to emergency or urgent calls, but we now can use crime and call data to enhance our general patrol activities.
Many officers go out on "directed patrol" activities which vary from neighborhood traffic details to verifying addresses and activities of drug offenders. We also have many community contacts with non-enforcement details. Our officers stop at after-school programs like the Galaxy Youth Center and make stops at high school events in the evenings.
The Patrol Division is the most visible to the public and they respond to a wide variety of calls. One of the most frequent calls is a medical emergency. Our officers are first aid trained and we carry oxygen and other first aid supplies in our squad cars. We also have Automatic External Defibrillators (AED) that will provide life saving intervention for heart attacks victims.
We currently have 56 officers assigned to patrol and 10 sergeants working with each of the different shifts. Officers pick their shifts every four months and also have the ability to select their favorite area. We have two patrol commanders who provide the administrative and management functions for this division. Bloomington is fortunate to have a committed, active and professional patrol division that responds to calls 24 hours a day, 7 days a week.
Traffic Unit
The Traffic Unit does more than write tickets. It is responsible for the investigation of hit-and-run accidents, fatal and serious personal injury accidents, and felony fleeing police and DWI arrests. The unit also receives driving complaints and determines areas for concentrated education and enforcement.
Along with the typical radar and laser speed detection devices, the unit utilizes three speed trailers for problem areas.
Officers have specialty assignments within the unit: Two Traffic Crash Reconstructionists, Crash Investigators and a Commercial Vehicle Inspector who enforces state and federal motor vehicle carrier laws.
Patrol Special Operations
The Bloomington Police Department has a number of specialized units providing a wide variety of services to the community. Whether a natural disaster or a man-made one, Patrol Operations is ready to respond. The division assesses critical areas and plans strategies for dealing with possible disasters. Responsible for coordinating relief efforts with departments, Patrol Operations' trained personnel and specialized equipment are ready to act in an emergency.
Bloomington Police Honor Guard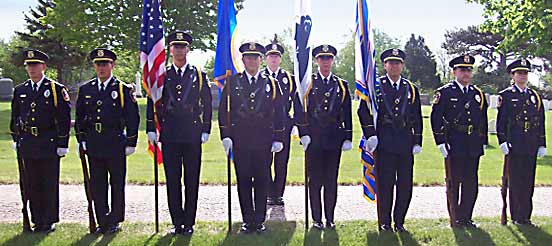 Formed in 2006, the Bloomington Police Honor Guard has been equipped by securing donations from the community. The Honor Guard is comprised of nine officers from different divisions in the department who work this assignment on an extra-duty, voluntary basis.
The Honor Guard represents the Bloomington Police Department at the following events:
Funerals for Minnesota Police Officers killed in the line of duty.
Funerals for current or retired Bloomington Police Officers.
Annual events for Police Memorial at the Minnesota State Capitol.
Selected local events with a connection to the Police Department.
All members of the Honor Guard have attended specialized training at Camp Ripley specifically for this function.
To learn more about the Honor Guard, contact Commander Kim Clauson at 952-563-8623. If the Honor Guard is needed on a more urgent basis (e.g., for a funeral), you can contact Emily Herman at 952-563-8854.
Community Service Officers Program
Instituted in 2000, the Community Service Officer (CSO) program has become an integral part of the department by freeing up officers' time so they can better serve the community. Those hired for these part-time positions are seeking a career as law enforcement officers and are actively working on the licensing requirements. Duties include department vehicle needs, prisoner meal preparation and distribution, transporting evidence to county and state agencies, assisting at the animal shelter and miscellaneous duties as needed.
Emergency Response Unit
The Emergency Response Unit (ERU) is comprised of four teams: the Bomb Squad, the Hostage Negotiation Team, the Special Weapons and Tactics (SWAT) Team and Medical Support. Members of ERU have regular assignments within the department. Whenever there is a need for highly trained officers using special weapons and tactics, the ERU team members respond.
ERU is trained to safely resolve high-risk situations that require prompt response by highly trained and equipped teams. At the decision of the shift supervisor, ERU is called on to handle situations that may include:
Hostages
Barricaded and armed suspects
Snipers
Terrorists
Homicidal or suicidal persons
Civil disturbances
Dignitary protection
High-risk search and arrest warrants
Explosive devices or incidents
Special Events
Bomb Squad
The Bomb Squad responds to incidents that involve improvised explosive and incendiary devices. In addition, the Bomb Squad conducts post-blast, crime-scene investigations and high-risk entries for the SWAT Team. One of only four squads in Minnesota, the Bomb Squad receives funding from the State of Minnesota for responding to calls for service outside their jurisdiction. The Squad also covers the Minneapolis-St. Paul International Airport.
The Bomb Squad provides threat assessments and bomb awareness training to the public and private sectors, teaches at the Citizen's Police Academy, provides demonstrations at community events and functions, and trains new officers in basic explosive detection awareness.
Specialized equipment includes robots, trucks, Segways, a retrofitted total containment vessel for biological and chemical weapons, bomb suits and a communications system.
Hostage Negotiation Team
The Hostage Negotiations Team is a group of specifically-trained officers and dispatchers who bring about the peaceful resolution of critical incidents involving subjects "in crises." The team works in partnership with the SWAT Team, who provides tactical protection and response that allows the negotiation process to occur. All members have had extensive training through the FBI in dealing with critical incidents.
SWAT
The Bloomington SWAT Team was formed in 1983 and is comprised of a commander, three sergeants, 14 officers and three tactical paramedics who respond to high-risk situations.
Team members also teach at the Citizen's Police Academy, provide demonstrations to Bloomington citizens and other jurisdictions, train Bloomington Police Officers in rapid deployment for active shooters in schools and train the Bloomington School District in lockdowns and threat assessments of their buildings. Many team members also provide additional training to department personnel in firearms and the use of force.
Mall of America Unit
The unit works to provide a safe and secure shopping experience for visitors to the Mall and develops a partnership with businesses to maintain a successful retail environment that benefits the community. The main focus is working with business owners on crime prevention by educating and training on ways to prevent theft and enhance communication. With more than 43 million visitors each year, the Mall is the largest retail and entertainment complex and the top tourist destination in the nation. The Mall Unit has established a creative partnership with businesses and Mall security that is beneficial to the city as well as to the Bloomington Police Department.
The storefront office is located on the second level of the Mall of America, near the east entrance, and is staffed during retail hours.
Special events
Special Events is staffed by one sergeant, who reports to the Commander of Patrol Operations. Duties include coordinating special events and contractual overtime, tracking city-county forfeitures from seizure to sale, supervising the Community Service Officers, Reserves and Chaplains, and coordinating jail activities.
Professional Standards
The Professional Standards Division investigates allegations of police misconduct and, through the Behavior Recognition Board, evaluates reports of significant acts of bravery or outstanding performance by members of the Police Department or the public. Professional Standards coordinates the hiring process with the Human Resources Department and conducts background investigations on police officer candidates and civilian employees. The division also oversees the department training program.
Behavior Recognition Board
Each year the Police Department recognizes and awards both officers and civilians for their outstanding efforts in the area of public safety. These awards run the gambit from aggressive criminal investigations to life saving activities. Bloomington's professional police agency and involved community are very active in the area of public safety.
Internal investigations
The Commander in Professional Standards has several important responsibilities, including the management of internal investigations. Our department prides itself on fair, impartial and thorough investigations of citizens' complaints.
As inquiries are received regarding employee conduct, division commanders filter the inquiries into one of three areas: performance matters; questions; and complaints.
Once a determination is made as to the type of issue, the necessary investigation is done. Our goal is to balance the needs of the reporter and the department.
Performance matters are those issues that are less serious in nature. The focus is on supervisory discussions and identifying options to employee actions to reduce conflict.
Questions are those inquiries that need follow-up only to the extent of providing information to the reporter. They may include other City divisions or agencies that might be able to deal with the specific issue. Examples:

A person who receives a tag for speeding wants to contest the violation. This person would be referred to Hennepin County Court and advised to seek legal advice if necessary.
A parent calls to report that a police investigation into her disrespectful son or daughter hasn't been referred to Juvenile Court. This would be referred to other social service agencies that might deal with the issue away from criminal law violation aspects.

Formal complaints require extensive investigation because they are more serious and could result in discipline against the employee. The officer's rights and due process steps need to be taken, and these investigations will take time to complete. All of these complaints are reviewed by the Chief of Police for final disposition.
Training and development
The Bloomington Police Department prides itself on its commitment to training. The training sergeant coordinates both in-house or in-service training, along with outside schools and conferences. Current topics for our biannual in-service program include:
Criminal and traffic law updates
Biohazards and hazardous materials
Dealing with the Immigration and Naturalization Service
Road spikes for pursuit intervention
Crime Free Multi-Housing
These training days include in-house and regional trainers on the topics listed.
In addition to the in-service topics, outside training is offered or required several times a year and includes:
Handgun and shotgun qualification
First aid refresher
Use of force issues which include legal update, case law, practical exercises on use of chemical or impact weapons, along with defensive tactics
DMT operation/DWI updates
The training sergeant also coordinates the training in specialty area. These areas include:
Drug Enforcement Administration (DEA) undercover operations
Accident investigation and reconstruction
Gang enforcement
Community or problem oriented policing
Driving
Management courses which include Supervision of Police Personnel and School of Staff and Command
SWAT, bomb and hostage negotiations which include basic, update and advanced courses
This training component is a busy assignment for our training sergeant who works hard to offer and provide up-to-date and quality instruction in these areas.
Support Services
Dispatch Center and Communications
The Communications Center is an essential part of the Bloomington Police Department. Its highly-trained personnel perform dispatch services for Patrol, Investigations, Fire, Medical Response and Animal Control. Fourteen full-time dispatchers work rotating shifts to ensure 24/7 coverage in the center. Dispatchers answer approximately 16,000 telephone calls each month; 24 percent of these are 911 calls.
The Communications Unit is a member of the LOGIS consortium for computer-aided dispatching. This consolidation provides an efficient way of handling records management for service calls.
Facility Management
Civic Plaza's police facility was opened in 2003 with approximately 44,000 square feet of space. The Patrol Division and jail facility occupy the majority of the first level. The Administration, Investigative, Professional Standards and Emergency Services divisions occupy the second level.
The Civillian Services Manager ensures all areas of the police facility are adequately maintained.
The jail has 13 cells, two large tanks and two interview rooms. A sworn officer is assigned to the jail 24/7 and is assisted by Community Service Officers during meal and cleaning times. Food preparation and jail laundering duties are usually conducted by Community Service Officers.
Records Unit
Annually, the Records Unit personnel enter more than 20,000 police reports into the Law Records Management System. The Records Unit is responsible for a wide variety of tasks that include:
Accurately processing, maintaining and disseminating police records that include confidential and sensitive data
Completing case referrals to the Bloomington City Attorney's Office and Hennepin County Attorney's Office for consideration of filing criminal complaints
Providing essential services to Investigations, Patrol and Administration, other governmental agencies and to the general public through the front counter and main switchboard non-emergency line
Records Management
The Bloomington Police Department is a member of the Local Government Information Systems (LOGIS), a consortium of Minnesota local government units. LOGIS provides technology solutions to public agencies through the sharing of ideas, risks, resources and costs. Records Management staff provide training and assistance to the entire Police Department on the record systems.