Arrest reports, statistics, and crime map
Arrest Reports
The reports list recent arrests made in Bloomington. Each report shows the charges along with the name, age and address of the person arrested.
The below Bloomington Police Department statistics are offered for your reference. The statistics shown in the PDF contain 5 years of data on Uniform Crime Reporting Part I and II crimes.
Crime Map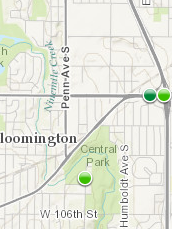 Stay informed about what's happening in your city with the Community Crime Map. The map is meant to connect law enforcement and the people they serve. Bloomington Police feel that the more educated you are about crime, the better you can protect yourself. Effective, responsible crime prevention enhances the quality of life.
You can find the map or sign up for email updates through the below link:
*Please review the disclaimer below before clicking on the Crime Map.
Map disclaimer
The end user of this information agrees that these data and maps have been created from information provided by various government and private sources at different moments in time and at various levels of accuracy. They are only a graphic representation and should not be considered as positionally accurate. The data is provided "as-is" with no claim made to its accuracy or its appropriateness to an intended use. It is the responsibility of the end user to be aware of these limitations and to utilize the data in an appropriate manner.
The City of Bloomington Police Department, LOGIS and their employees assume no responsibility or liability to any person or entity for the use of this information. The end user agrees to hold the City of Bloomington Police Department and LOGIS harmless for claims arising out of this exchange of information. Therefore under no circumstances shall the City of Bloomington Police Department or LOGIS be held responsible for any costs, expenses, damages or injuries, including special or incidental or consequential damages to any person(s) or property that arises from the use, or misuse of the information provided. The City of Bloomington Police Department and LOGIS make no warranty for the use of this data. The City of Bloomington Police Department and LOGIS do not guarantee the content, geographic accuracy, timeliness, or completeness of the material herein contained and are not responsible for any misuse or misrepresentation of this information or its derivatives. Any use of this information is made solely at the risk of the user.