Many basements in Bloomington are cold, plain, cement holes with utilities such as furnace, water heater and washer and dryers. These areas have a great potential to expand living, entertainment or work spaces.
Design options
If your basement is unfinished, then you will have a wide open area to work with. Depending on what you would like to do with your basement, the design is totally up to you.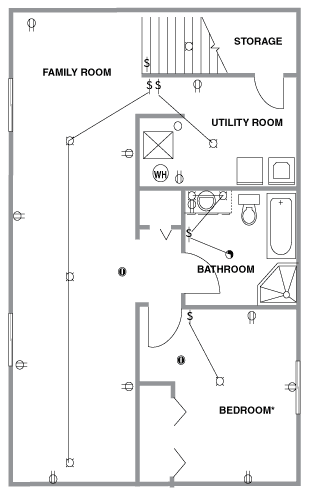 The basement finish design plan displayed here is an example from our Basement Refinishing Information Sheet. It shows the potential of a basement that was originally just an empty square or rectangle. These are just examples and ideas for your basement.
Depending on your project and wants, permits and requirements could be different. These are just a guide and are not intended as a set of requirements. Please consult the Bloomington Building Codes and Permits page for specifics on your project. Because of the technical aspect to much of these ideas, you may want to speak to a professional such as a general contractor.
Basement bedrooms
A bedroom in the basement is a great option. The requirements in creating a basement sleeping room are:
There must be an egress window. An egress is a window that is big enough to be used for escape or rescue should there be a fire or other emergency in your home. For more information on specific size requirements, see our Egress Escape Window Information Sheet.
All bedrooms must also have a smoke detector. To learn about the requirements, visit our smoke and CO2 detectors page.
In addition, electrical outlets are required every 12' along walls and 6' from door openings.
Basement bathrooms
A bathroom in the basement is nice if you have entertainment or sleeping areas. It is recommended to keep the bathroom near the utility room to try to conserve plumbing. Using less plumbing pipe also conserves energy by minimizing the distance water must travel.
Requirements include (and please see our Basement Refinishing Information Sheet):
A bathroom fan unless there is window that can be opened.
A dedicated GFI circuit  in each bathroom.
Family / recreation / entertainment room
The basement is a great spot to include one of these rooms. You may want to finish the cement walls and floors, and include more outlets. But beware of carpet in the basement as some basements are prone to flooding or water damage.