Mall of America Transit Station Renovation
Project Background
As the busiest transit station in Minnesota, the Mall of America Transit Station (MOA Transit Station) is a critical transit hub for the region. The biggest problem with the current transit station is that buses, MOA employees and contractors, and MOA deliveries all enter through the same security gate, causing traffic and safety issues.
The renovation will create a bus-only entrance, cutting down on the time delay created by traffic back-ups. Also, buses will no longer cross the light-rail tracks within the station, providing improved safety for bus customers. The improvements will make the station more recognizable from outside and provide customers with a direct connection to the MOA East entrance, creating a better pedestrian experience.
This is the first major renovation for the 25-year-old transit station, which was last upgraded in 2004 when the METRO Blue Line opened. The transit station sees more than 5,600 boardings a day, as a connection point for light rail, the Red Line, and dozens of Metro Transit and Minnesota Valley Transit Authority bus routes.
How is this project funded?
MOA Transit Station improvements are currently underway after Metro Transit accepted a bid within budget in June. The total project budget is $25 million. Land for the project is being provided for by the Mall of America. Project costs are being funded by:
Minnesota State Bonds, a Federal Congestion Mitigation and Air Quality grant, County Transit Improvement Board, Metro Transit, and the City of Bloomington.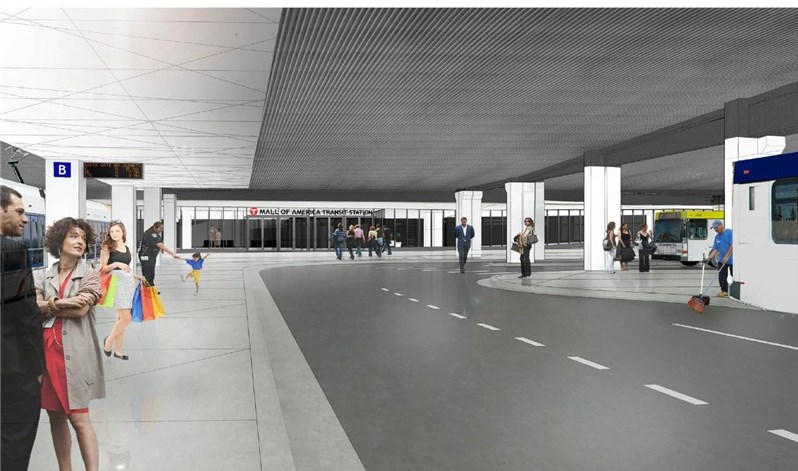 Schedule
The tentative schedule for this project is:
| | |
| --- | --- |
| Completed design | Fall 2017 |
| Project bid | Spring 2018 |
| Groundbreaking ceremony | August 2, 2018 |
| Construction begins | August 2018 |
| Project complete | November 2019 |
News
http://m.startribune.com/facelift-underway-for-mall-of-america-transit-station/489932881/
https://metrocouncil.org/News-Events/Transportation/News-Articles/Transit-leaders-break-ground-on-$25-million-renova.aspx
Project updates
Please visit Metro Transit's project webpage for additional information during and after construction: https://www.metrotransit.org/mall-of-america