Residents can bring their food scraps and non-recyclable paper to organics drop-off sites located in Bloomington. These sites are offered at NO ADDITIONAL COST to residents!
About 30% of our garbage is comprised of organic material. Removing this material from the waste-stream can save energy and reduce Greenhouse Gases. Organic materials collected at the drop-off sites will be taken to an industrial organics site and turned into nutrient-rich compost.
When compost is added to soil, it reduces the need for fertilizers and pesticides and increases water retention which allows for more efficient use of water. The compost will be used primarily by commercial landscapers, in road construction projects and in gardens.
Ready to get started? Fill out the online form or call 952-563-8760.
Site locations
Valley View Park - 201 E 90th St (in parking lot in-between pool and ballfields)
West Bush Lake Park - 95th St and W Bush Lake Rd (Near "Shelter 1" in parking lot next to maintenance storage building)
Hennepin County also hosts an organics drop-off site at the South Hennepin Recycling and Problem Waste Drop-off Center at 1400 W 96th St. Hours are posted on the Hennepin County website.
Organics from small businesses are NOT accepted at the city locations. Organics are accepted from small businesses ONLY at the Hennepin County drop-off site are limited to no more than five (5) bags per day.
How to sign up
Fill out the online form or call 952-563-8760.
Any Bloomington resident, including residents living in an apartment, condo or townhome can sign up. A welcome kit will be delivered to residents who register. This starter kit includes details on how to recycle organics and compostable bags.
How to get started
Use an ice cream bucket, coffee container or yogurt tub, or purchase a kitchen countertop organics container. Line the container with a certified compostable bag. Paper bags are accepted in the organics program as well, and are great for collecting your dry organics, like paper towels, napkins and egg cartons.
Vent the lid on the container to reduce odor.
Line your container with the bag and begin collecting food scraps and non recyclable papers. (Using bags makes it easier to transport the organics from your home to the drop-off location and helps reduce odor and pests. See the list of acceptable items below. Loose food scraps are not accepted.)
Tie the bag shut and bring to the most convenient drop off location.
Repeat!
Certified compostable products
Only "Biodegradable Products Institute" (BPI) or "Cedar Grove" certified products are accepted as organic material.
Certified compostable materials are completely biodegradable and turn into compost. Items without the certification may be lined with plastic or other non-compostable material. Please avoid purchasing items without the certification or labeled as "degradable", "biodegradable" or "made from plants."
When purchasing bags and compostable foodware, please look for the following labels: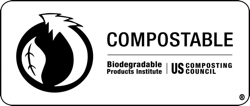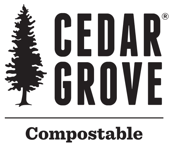 Compostable bags can be purchased at local grocery stores, hardware stores and online. The following stores have been confirmed to carry compostable bags:
Paper bags can also be used to collect organics.
Items accepted
Organics Drop-off brochure
Detailed Organics Acceptability List
Food scraps
Fruit and vegetables
Meat, fish and bones
Dairy products
Eggs and egg shells
Pasta, beans and rice
Bread and cereal
Nuts and shells
Non-recyclable paper
Pizza boxes from delivery
Napkins, paper towels and tissues
Paper egg cartons
Certified compostable products
Compostable paper and plastic cups, plates, bowls, utensils and containers
Look for the BPI or Cedar Grove logos when purchasing these items
Other compostable items
Coffee grounds and filters
Hair and nail clippings
Cotton balls and swabs with paper stems
Houseplants and flowers
Tea bags
Wooden items such as chopsticks, popsicle sticks and toothpicks
Items NOT accepted
Animal and pet waste, litter or bedding
Cleaning or baby wipes, diapers and sanitary products
Dryer lint and dryer sheets
Fast food wrappers, frozen food boxes, gum, grease or oil
Household trash
Products labeled "biodegradable"
Microwave popcorn bags
Recyclable items (cartons, glass, metal, paper, plastic)
Styrofoam
Yard waste (Leaves, grass clippings, sod, branches, stumps and logs)
Yard waste collection is available through subscription or on call service with the Garbage and Recycling program.
Organics Recycling 101 Webinar

In June of 2020, the City hosted a virtual organics recycling workshop. The recording is an hour long and covers what organics recycling is, how to get started, tours a few composters kitchens, and answers plenty of questions from residents. Watch the webinar to become an expert!