Simple ideas to transform your kitchen
Sometimes a total remodel is a project you don't have time for or it is something you simply cannot afford to do. But that doesn't mean you should live with a kitchen you hate. Here are a few simple things you can do to spice up your kitchen.
Paint: Easy, can be done in a weekend, most bang for your buck. Talk to your local home improvement store paint specialist in picking a color.
New appliances: Replacing that olive green refrigerator circa 1973 will not only update your kitchen but increase your energy efficiency. Stainless steel is the most popular look right now as it is sleek and easy to clean. Visit the Energy Star for information about energy efficient appliances.
Cabinets: The cleaner, less complicated and simpler, the better. If choosing a wood cabinet, a light colored wood finish with minimum details. Avoid moldings and other elaborate details. Don't want to replace your cabinets? Changing your cabinet hardware can give them a fresh new look.
Lighting: Use halogen and track lighting. Overhead fluorescent lighting is a thing of the past. Another useful idea is to install under cabinet lighting. Adding under cabinet lighting can give you extra task lighting. This will make working in your kitchen easier.
Flooring: Replacing that grungy floor is a relatively simple activity to spruce up your kitchen. These easy flooring types are ones you can investigate for your own kitchen:

Floating floor – Looks like a traditional wood floor but the installation is easier. A floating floor is not nailed down but glued or snapped into place.
Cork floor – Installed like a floating floor. Advantages of a cork floor are its cushion and ability to stay warm!
Vinyl tile floor – Has many colors to choose from, easy to clean and crack resistant. Laying a vinyl tile floor can be finished in a day
Total kitchen remodel
If you're going to do a total kitchen remodel chances are you might need to get some permits. Visit our Bloomington building codes ad permits page to see what you will need for this kind of project.
Visit our Home Improvement Guide for help with hiring a contractor, getting bids and other big project necessities.
Essential elements in your new floor plan
Work triangle:The basic tenets of the work triangle theory are:
Each leg of the triangle should be between 4 and 9 feet
The total of all three legs should be between 12 and 26 feet
No obstructions should block a leg of the work triangle
Household traffic should not flow through the work triangle.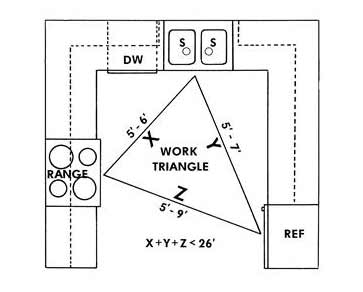 The diagram above of a work triangle is not limited to U-shaped kitchens. The work triangle can be applied to all styles (L-shaped, , U-shaped, parallel, etc.)
Congregation: If the space allows, incorporate a place for people to congregate. Many kitchens today are designed not only to prepare food, but it is an integral part of the home where friends and family can come together. Think of a space where your kids can do their homework, place a small laptop to do some work, and pay the bills. A good idea is to tear down the wall that separates the kitchen from the family room or dining room.
Plan examples
Designing a new kitchen is a big task and you might want to seek a professional to help you with the design. Before you meet with a professional make a list of all the things you (not what your mom, grandma or contractor) want in your new kitchen.
If you live in a rambler, check out our examples of floor plans for that type of house in our sample remodeling projects page.