FootGolf at Hyland Greens
This is what you get when you combine golf and soccer!
FootGolf is a lot like regular golf. Players kick off from a tee box and attempt to get their soccer balls in a 21-inch diameter cup using the fewest number of kicks. You may have to kick out of sand, over water or around a tree. FootGolf can be played by children and adults.
If you can kick a soccer ball, you can play FootGolf!
For more about FootGolf, visit the American FootGolf League's website.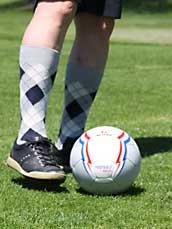 FootGolf at Hyland Greens
Hours: FootGolf can be played any time during regular hours, except during golf league times.
Players must call ahead to reserve a tee time. Reservations may be made up to 7 days in advance.
First tee time: 7:30 a.m.
Last tee time: 1.5 hours prior to sunset.
Ages: FootGolf is appropriate for children and adults.
Attire: Indoor soccer shoes or turf shoes are recommended. No soccer cleats are allowed. Argyle socks are optional!
Equipment: A soccer ball is required for each person. Bring your own soccer ball or rent one for $3.