Green Streets for Blue Waters
Project Background and Purpose
The Minnesota River is the most polluted water body in the State of Minnesota. The lower stretch of the MN River (from Savage to the confluence with the Mississippi) is impaired from low dissolved oxygen. The culprit is excess phosphorus that enters the river system from our yards, driveways, streets, and other land uses. The Green Streets for Blue Waters project was created to organize neighborhoods along the Minnesota River to join together and help repair the problem by installing rain gardens and other storm water BMP's that infiltrate rainwater, giving the water a chance to be cleaned naturally.
Green Streets for Blue Waters was a collaborative effort to install curb cut raingardens and other storm water best management practices (BMP's) within public rights-of-way and private land. The City of Bloomington partnered with the Lower Minnesota River Watershed District and Metro Blooms to identify the project area, goals, and implement the project.
Combined, these practices treat storm water runoff from over 55 acres and capture more than 3,500 pounds of solids, 8 pounds of phosphorus, and 3 million gallons of storm water runoff on an annual basis. The project works to address the low dissolved oxygen impairment in the Lower Minnesota River and establishes a replicable model for retrofitting urban landscapes with cost-effective community-based green infrastructure.
Project map
The map below illustrates the area where the various projects were implemented.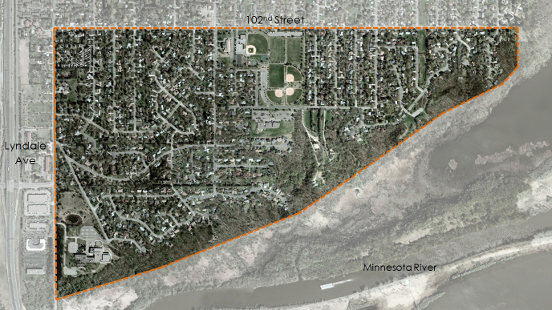 Current Project Status
Completed in 2014, the City of Bloomington, in partnership with Metro Blooms, and the Lower Minnesota River Watershed District, worked with residents to design and install a vegetated bioswale and 18 curb cut raingardens in Bloomington neighborhoods that drain to the Minnesota River. 
The solids and phosphorus removed would otherwise end up in the Minnesota River, causing algae blooms which deplete oxygen and can diminish aquatic habitat when they decompose. The millions of gallons of runoff infiltrated reduces flooding and recharges groundwater to ultimately reach the Minnesota River clean and cool. In addition the bioswale and raingardens beautify City neighborhoods and provide habitat for pollinators and other wildlife. This project was made possible by grant funds from the Clean Water Land and Legacy Amendment, and matching funds provided by the City of Bloomington Storm Water Utility, and the Lower Minnesota River Watershed District.
Since 2008, the City of Bloomington has installed over 50 curb cut raingardens, 18 of which were part of the 2012-2014 Green Streets for Blue Waters Project. Raingardens and bioswales are becoming an increasingly familiar landscape is Bloomington neighborhoods year after year. Take a stroll down a block during the growing season and there's a good chance you'll find a raingarden in bloom, teaming with bees and butterflies. When you see these know that the cumulative effect is making a difference in the neighborhood, the Minnesota River and beyond. 
* Metro Blooms contributed to this write up.