Collector Street Traffic Management Program
The collector street striping reconfiguration policy was developed to address residents growing concerns about speeding on Bloomington's streets. The Council feels that many Bloomington collector streets were designed, at the time of construction, for volumes higher than are currently using them. Some research shows that wider driving area gives drivers the perception that they can drive faster, thereby resulting in faster driving speeds. The goal of reducing the drivable area with new striping is to give drivers more of a sense that they are traveling in a residential area and should maintain an appropriate speed.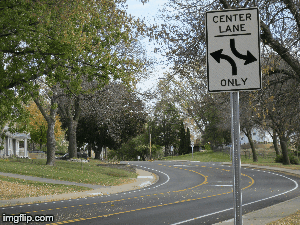 Collector policy and process - revised 4/27/09
The collector street striping reconfiguration policies, procedures and schedules were adopted by the City Council at the April 25, 2005 meeting. According to the policy, collector streets will be reviewed for possible striping changes during their pavement management program (PMP) improvement year. The program is set up to perform the changes along with the PMP striping so there will be no additional costs to the residents and City.
2019 collector street striping reconfiguration Program
| Street Segment | Striping Change | Status |
| --- | --- | --- |
| James Avenue - W 98th Street to W 92nd Street | 2-lane | Construction complete |
Public Hearing
January 28, 2019 7pm Council Chambers
At the public hearing the Bloomington City Council approved the reconfiguration of James Avenue from its existing 4-lane section to a 2-lane section with wide shoulders
Virtual Open House
On January 7, 2019 Engineering staff held an open house for the James Avenue Area. The Boards below where on display during the open house.
Open House Boards.pdf
James Prelim Striping Plan.pdf
Staff recommendation to the city council will be for a 2-lane roadway (as shown in the preliminary striping plan
If you have questions or would like to comment regarding this project. Please Contact:
Paul L Jarvis, Traffic Management Coordinator at pjarvis@bloomingtonmn.gov or 952-563-4548
2018 collector street striping reconfiguration street list
Street Segment
Striping Change
Status
12th Avenue - 12th Ave Layout .pdf
E 86th Street to American Boulevard
2-lane & 3-lane
2018 Construction -Construction Complete

Bush Lake Road - Bush Lake Rd Layout.pdf
W 110th Street to Old Shakopee Road

W 110th Street - 110th Layout.pdf
Hampshire Avenue to Bush Lake Road

2-lane

2018 Construction - Complete
Past Program Streets
4-lane to 2-lane Conversion
2018 - Bush Lake Road (W 110th St to Old Shakopee Rd)
2018 - W 110th Street (Hampshire Ave to Bush Lake Rd
2016 - W 98th Street (Normandale Blvd to Nesbitt Ave)
2015 - Nicollet Avenue (Old Shakopee Rd to W 102nd St
2015 - W 109th Street (Bloomington Ferry Rd to Bush Lake Rd)
2014 - Hampshire Avenue (Old Shakopee Rd to South Terminus
2014 - W 111th Street (Hampshire Ave to Nesbitt Ave)
2014 - Nesbitt Avenue (W 111th to Old Shakopee Rd)
2012 - Normandale Boulevard (Auto Club Rd to W 110th St)
2012 - Auto Club Road (Normandale Blvd to Minnesota Bluffs Dr)
2011 - MN Bluffs Drive (Bloomington Ferry Rd to Auto Club Dr)
2010 - W 102nd Street (Lyndale Ave to Nicollet Ave)
2010 - W 106th Street (Bloomington Ferry Rd to Hampshire Ave)
2010 - Portland Avenue (E 102nd St to E 99th St)
2010 - Xerxes Avenue (W 84th St to W 90th St)
2010 - Xerxes Avenue (W 98th St to Baillif Pl)
2009 - W 102nd Street (Nesbitt Ave to Normandale Blvd)
2009 - W 110th Street (France Ave to Normandale Blvd)
2009 - France Avenue (110th St to Overlook Dr)
2008 - E 102nd Street (Nicollet Ave to Portland Ave)
2008 - W 110th Street (Thomas Ave to France Ave)
2008 - Humboldt Avenue (W 106th St to W 100th St)
2008 - Overlook Drive (Normandale Blvd to France Ave)
2008 - Xerxes Avenue (W 110th St to W 106th St)
2007 - W 110th Street (Xerxes Ave to Thomas Ave)
2006 - 82nd Street (Pleasant Ave to Portland Ave)
2006 - 12th Avenue (82nd St to East Old Shakopee Rd)
2006 - Overlook Drive (Thomas Ave to W 108th St)
2006 - Nesbitt Road (W 94th St to W 98th St)
2006 - 94th Street (Normandale Blvd to Nesbitt Rd)
2005 - 84th Street (Pillsbury Ave to Nicollet Ave)
4-lane to 3-lane Conversion
2016 - Lyndale Avenue (W 102nd St to W 106th St)
2014 - W 106th Street (Humboldt Ave to Xerxes Ave)
2014 - Veness Road (Bloomington Ferry Rd to W Bush Rd)
2014 - Highwood Drive (East Bush Lake Rd to Pennsylvania Ave)
2014 - W 84th Street (France Ave to Penn Ave)
2010 - 90th Street (Vincent Ave to France Ave)
2010 - 86th Street (Penn Ave to Old Shakopee Rd)
2010 - 90th Street (France Ave to Xerxes Ave)
2006 - W 102nd Street (Penn Ave to France Ave)
2005 - Poplar Bridge/W 90th Street (France Ave to Collegeview Rd)
2005 - Nine Mile Creek Parkway (W 90th St to Stanley Ave)
Studied and Kept Original Configuration
W 102nd Street (France Ave to Normandale Blvd)
Collegeview Road (Poplar Bridge Rd to 98th St)
W 86th Street (E Bush Lake Rd to W Bush Lake Rd)
W 106th Street (Humboldt Ave to Lyndale Ave)
4-lane: two drive lanes in each direction
3-lane: one drive lane in each direction and a center two-way left turn lane
2-lane: one drive lane in each direction