Notable neighbors: Bloomington's blue ribbon bakers and canners
Do you know who the blue ribbon bakers and canners are around town? Cassandra Busch, Kerry Kelzenberg, above, and Rachel Yahnke took home first-place prizes from this year's Minnesota State Fair. These busy cooks took time out between recipes to discuss their prize-worthy culinary creations.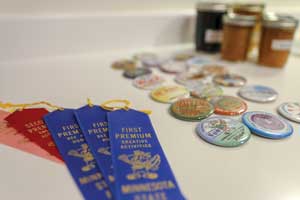 Cassandra Busch hails from a family of dedicated bakers. Recipes are cherished keepsakes handed down from generation to generation. Busch said, "Baking is my passion, and I dream of opening a diner and bakery in Bloomington. I love to bake and want to spread the joy to others."
The state fair gave Busch a chance to showcase her talent and bring in eight ribbons. Carrot cake and a cookie-on-a-stick of Fairchild, the state fair gopher mascot, took first places
Kerry Kelzenberg has roots entwined in a proud history of Minnesota farming. Today, she continues a tradition of great food by preparing her own canned goods. Among her prizes, Kelzenberg took first-place ribbons for watermelon rind pickles, honey lemonade with mint and peach butter with honey. 
Her secret? "I buy the best ingredients I can at our Bloomington Farmers Market and Colorado peaches from Bob's Produce," she said. "I research and use trusted recipes. I pay attention to approved canning procedures by various extension services throughout the U.S."
A recipe for plum jam won Rachel Yahnke a blue ribbon. The Bloomington resident enjoys canning jams, pickles and other homemade wonders. She cooks year-round and strives for blue-ribbon quality for every recipe she creates, whether for friends, family or show.
Want to learn more? See Bloomington's blue-ribbon bakers at work in their kitchens at blm.mn/brbakers.