Creative Placemaking Links
Contact Information
Contact Information
Title
Hometown Poetry: Call for Submissions
Banner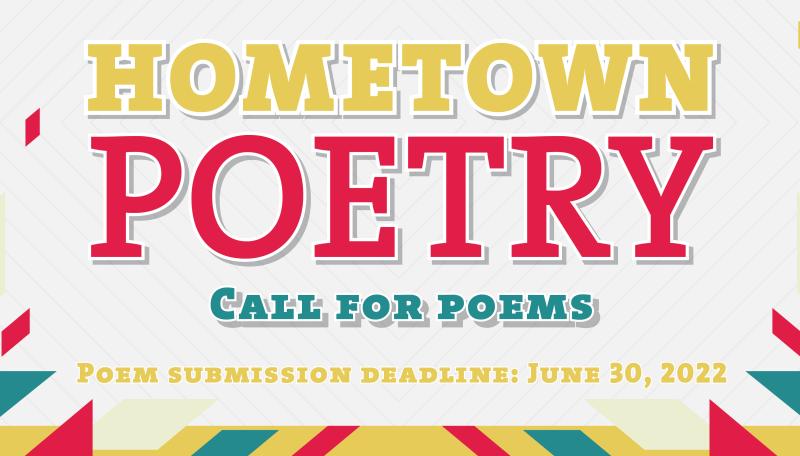 Sections
Bloomington residents of any age are invited to submit a poem by June 30, 2022.
City of Bloomington Creative Placemaking in partnership with Artistry is seeking original poems from Bloomington residents of all ages. You do not need to be a professional writer to submit a poem.
Eight winning poems will be stamped into new sidewalks, and four will be selected to be on display on creative sign installations. The location for these projects will be within a previously identified Neighborhood Focus Area within Bloomington, within the boundaries of Portland Avenue to Pleasant Avenue, and American Boulevard to 90th Street. In the future, the selected sidewalk poems may also be stamped into other new sidewalks throughout Bloomington.
The goal of Hometown Poetry is to celebrate art and literature and integrate it into our communities, highlight the talent of Bloomington writers, and bring a sense of surprise, delight, and contemplation to pedestrians.
Submission guidelines
Poem submissions will be accepted from any Bloomington resident of any age. You do not need to be a professional writer.

Each selected poet will receive $300.

One poem or haiku submission only per resident.

Poems should be short, with a maximum of 200 characters, including spaces.

Poem submissions must be the original work of the poet.

People of all ages and backgrounds will be able to view and read these poems. Poets should consider the appropriateness of the text and subject matter, and that these poems will appear in residential neighborhoods and near schools.

Submissions in languages other than English are accepted. An English translation must be included with the submission. 
A Selection Panel will include people from the City's Creative Placemaking Committee to review submissions and select poems.

Name, address, and demographic information about the poet will not be included in the material provided to the Selection Panel. The Panel will be able to see whether the applicant is a student at Valley View Middle School or Valley View Elementary School.

We encourage current students of Valley View Middle School or Valley View Elementary School to submit a poem and intend to select at least one poem from a student.

All applicants will be notified of the Panel's decision in the summer of 2022.

A public reading and display of selected poems is anticipated at

Hennepin County Library-Oxboro Library

, and will be arranged with selected poets.

The poet's name will not be stamped on the sidewalk. The names and poetry of the selected poems will be published on the City's website. If the submitted poem is in a language other than English language, the English translation will be published on the City's website.

The poet retains all copyright in any work submitted for consideration; however, by entering this contest the poet grants a license to the City to freely use, print and reproduce the work, in whole or in part, for any non-commercial purpose, without limitation. By submitting one's poem, the poet waives any responsibility on the part of the City for any actual or threatened claims of third-party infringement of the poet's copyright. By submitting one's poem, the poet waives any responsibility on the part of the City for protecting the intellectual property rights of the poet.

By submitting a poem, the poet agrees to the terms and conditions of these Guidelines.
This project was adapted from an art project originated by Public Art Saint Paul City Artist Marcus Young in 2008 and started under the name "Everyday Poems for City Sidewalks."
Thank you to Hometown Poetry review panel members.
Please fill out the submission form below. Contact us with any questions at 952-563-8744 or placemaking@bloomingtonmn.gov.
Please note you must be a current Bloomington resident to be eligible. 
Submission deadline: June 30, 2022, 11:59 p.m. Late submissions will not be accepted. Enter using the form below.
Hometown Poetry Submission Form
Please take notice that any data received by the City as the result of submitting this form will be classified as government data pursuant to the Minnesota Government Data Practices Act, Minnesota Statutes Chapter 13 (MGDPA). Under the MGDPA, all of this data is classified as public data, including your name, address, email address (if you choose to provide it), phone number (if you choose to provide it), and poem.  This public data will be used to process your application and will be published if your poem is selected.  If you fail to provide this public data or otherwise limit the data you provide, the City may be unable to process your application or publish your poem.
Providing your student status, age, race, and ethnicity data is optional and will not be affirmatively published by the City except in an aggregated summary format.  Race and ethnicity data will be made available to the city's racial equity coordinator and creative placemaking director and will be used for statistical purposes only. However, the data would be public and the city would need to produce it if requested by the general public pursuant to the MGDPA. You have the right to refuse to submit this information.
The City of Bloomington does not discriminate against a qualified person with a disability or exclude or deny the benefits of its services, programs, or activities to a qualified person because of a disability. The City will provide a reasonable accommodation or modify its policies and programs to allow people with disabilities to participate in all City services, programs, or activities.